Mer informasjon
8.4A total output for super quick charging
This Dual USB + Built-in USB-C Cable port Car Charger from Promate features a whopping 8.4A total output for impressive charging speeds when compared to standard chargers available on the market. Why compromise when you can ensure your devices are fully charged when you need them most and best of all recharged as quickly as your device will allow.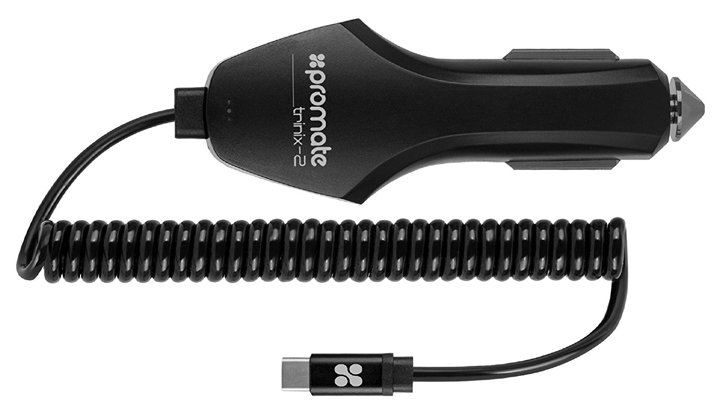 Quick Charge 3.0 compatible port for blazing fast speeds
What on earth is Quick Charge 3.0? Good question. Quick charge has been developed by Qualcomm so that devices running their latest SnapDragon processors can make use of significantly faster charging speeds. Why is faster charging important?
This represents up to a 4 times faster charging rate - a significant step forward in reducing charging speed and makes this car charger an absolutely essential accessory for anybody with a compatible device. The charger is also backwards compatible with Quick Charge 2.0.

Dual USB ports for universal compatibility
Charge any of your compatible devices with your own USB charging cables with the Promate Car Charger. Featuring not one, but two standard USB ports - you can be sure the Promate Car Charger is able to charge a vast array of your mobile devices.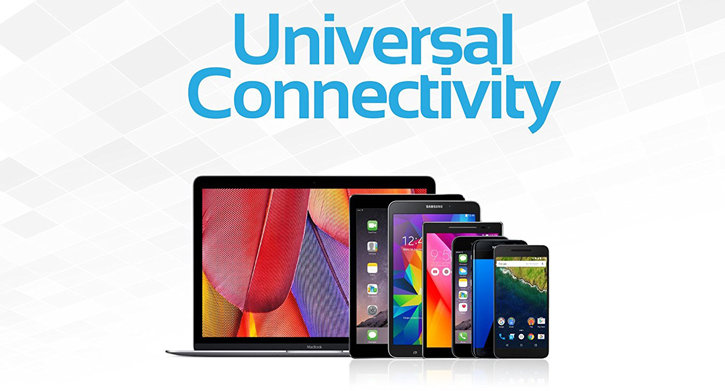 Built-in USB-C cable for the latest devices
With the built-in USB-C charging cable, you can charge your USB-C compatible devices up to an impressive 3A charging speed - ensuring your phone is ready whenever you are.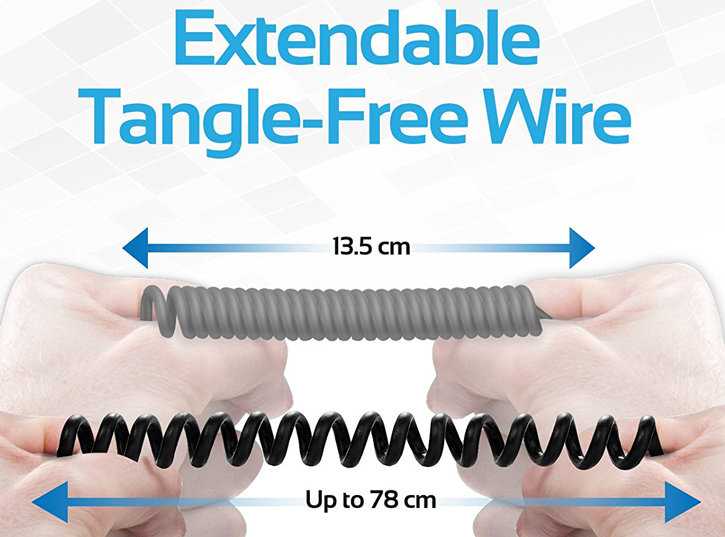 Charge 3 devices at the same time
Even better, with a single built-in USB-C cable and 2 additional USB ports - you can charge up to three of your devices at the same time without having to select one device over another.
Powerful yet discrete
The Promate Car Charger features a very compact design considering its total power output and it's extremely easy to swap between cars and to store when not in use.
Over-charge & over-heat protection
The need for charging speed is one thing, but you also need to feel confident that your devices are safe from harm. No need to worry as the Promate Trinix-2 Car Charger features over-charge and over-heat protection to ensure both the car charger and your connected devices are protected.
Specifications
Input: 12-24V DC
Output: USB = 5V 2.4A, USB-C = 5V 3A, QC Port: 3.6-6.5V/3A. 6.5V-9V / 2A, 9V-12V/1.5A
Input interface: Car lighter adapter
Output interface: USB port, Type-C cable, QC 3.0 port
Please note: Quick Charge 3.0 charging speeds will only be supported by Quick Charge 3.0 enabled devices.