Mer informasjon
Case and holder combo keeps your phone safe and secure both in and out of your car
This combo from Olixar represents not only astounding value for money, but the ultimate in convenience, too. Effortlessly mount your phone on your vehicle's air vent with the fully magnetic in-car holder, while the X-Duo rugged carbon fibre-style case protects your phone from drops, scrapes and scratches. The all-purpose case makes this combo ideal not only for your car, but for your everyday life.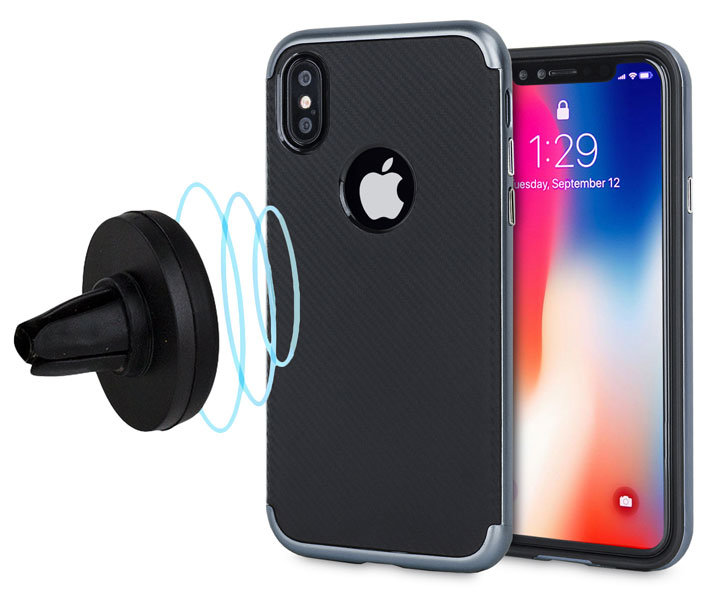 Hybrid dual-layered flexible body with sleek metallic bumper
Protect your phone from scratches, knocks and drops with the Olixar X-Duo for the iPhone X. Featuring a tough dual-layered construction of a flexible textured TPU body and a smooth, metallic-finish bumper that is tough enough to protect your device, without adding unnecessary bulk. The inner flexible robust TPU core features shock absorbing strength allied with a stunning carbon-fibre finish on the back. The inner patterns also help deflect shock force and aid heat dissipation.
Tough, rugged protection
The X-Duo delivers exceptional protection in a stylish slimline package. Made from a flexible TPU inner core, the X-Duo has been designed with phone safety in mind with a design that absorbs shocks and impacts, keeping your iPhone X safe and secure at all times. The upper and lower edges are purposefully deeper than the screen, providing some screen protection when placed face down or if it should fall face first.
Dock quickly with just one hand
With an intuitive design, the Olixar Magnetic Vent Car Holder makes attaching and removing your phone a quick and easy process. No fiddling around with arms to achieve the most secure fit and certainly no aggravation, the Olixar Universal Magnetic Car Holder has been designed so that with just one hand you can easily attach and remove your phone. Within a second, you can be ready to drive or get out of your car.

Quick and easy installation with all types of vents
Featuring a clever four way clip, the Olixar Magnetic Vent Car Holder allows you to mount onto any vertical and horizontal vent blades, making this unique car holder compatible with the majority of motor vehicles on the road today.
The Olixar Magnetic Vent Mount's simple, yet highly functional design works by slotting onto one of your vent blades, thus removing the need for any suction cups, adhesives or special cases - which can be tiresome to fit and cause damage to your car's interior. Once the holder is installed, you simply need to select one of the two provided magnets and attach it to your phone or case. This creates the strong magnetic hold, keeping your smartphone secure while you drive.