Mer informasjon
Listen to Lightning Audio and charge at the same time
The main down side to not having a headphone socket on the new iPhones is that you could charge or listen to music, not both. Well, now you can. The Accessport Lightning Hi Res Audio Amplifier and Charging Adapter Cable allows you to connect a lightning device at the same time as a 3.5mm cable, meaning you can charge via lightning cable and listen to music via the 3.5mm audio socket.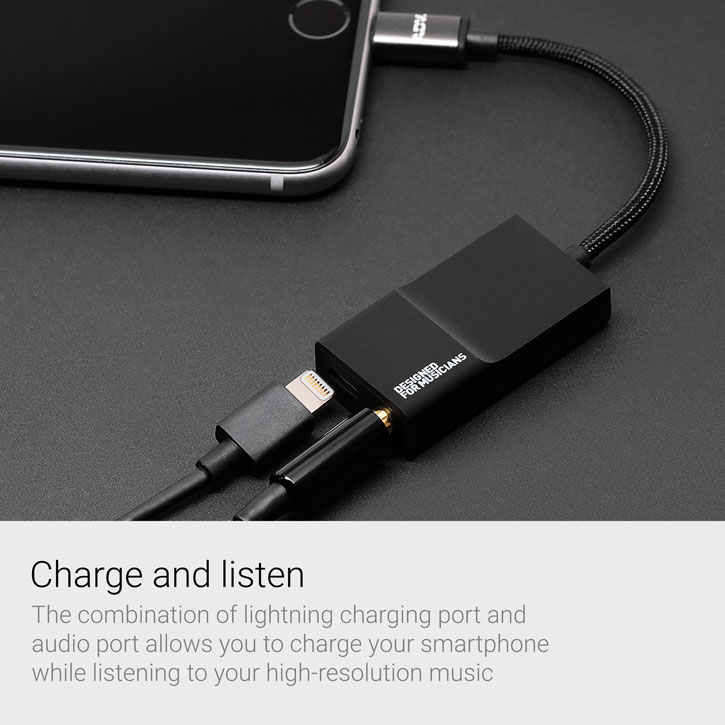 Supports pass-through charging
Don't be concerned that this is a compromise option in terms of charging power. This cable allows pass-through charging that is no different to charging directly with your Lightning cable.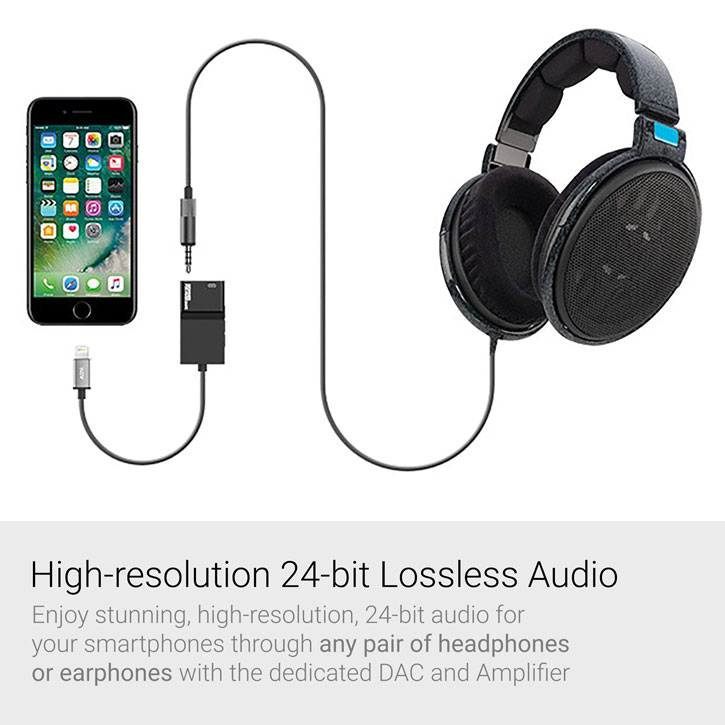 Supports up to 96 kHz, 24-bit lossless audio through any headphones or earphones
Your sound quality will suffer no compromise either as crisp high definition lossless 24 bit audio at 96 kHz is delivered, even if your other port is occupied with charging. ADVANCED Accessport provides stunning, high-resolution, 24-bit audio for your smartphones through any pair of headphones / earphones. The built-in, dedicated DAC and amplifier bring the intensive audio processing required to properly render the lossless audio right to the palm of your hand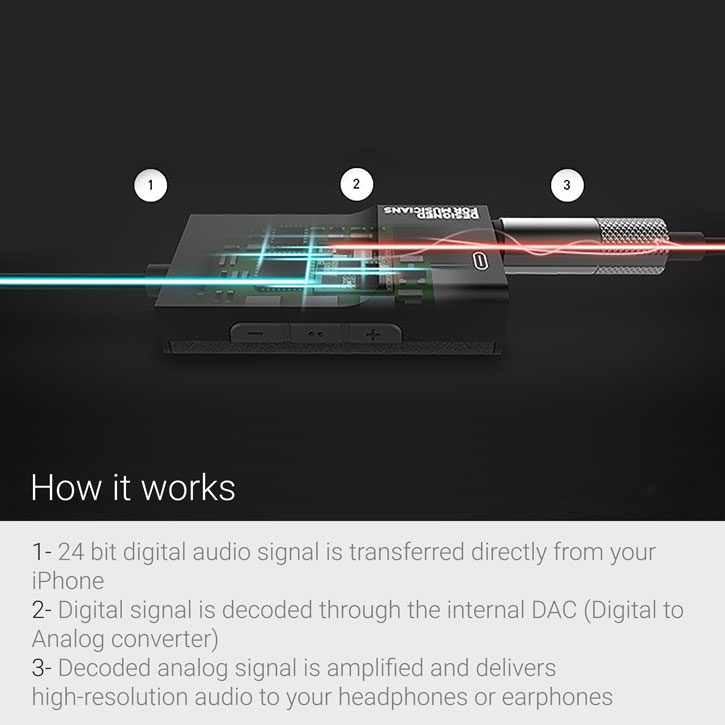 AAW (Advanced AcousticWerkes) are makers of premier CIEM's (Custom In-Ear Monitors). ADVANCED SOUND have been working closely with AAW to develop the Accessport and their immense know-how and expertise in acoustic engineering was the key in sourcing the right components together to maximize the performance of the Accessport.
Power up your headphones
The Accessport provides enough power to drive headphones with impedance up to 300ohm. This means you can finally take your power-hungry studio cans on-the-go and enjoy its full potential without having to carry a big and heavy amplifier.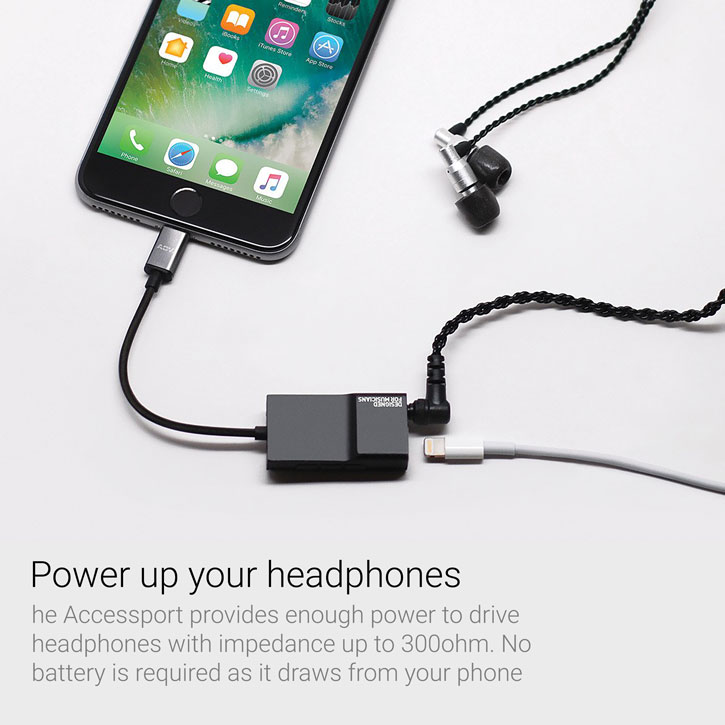 Integrated music controls
This awesome adapter cable allows full use of remote control and microphone signal from your Lightning Audio headset. This means you can control your tracks and handsfree calls and suffer no loss of clarity in terms of speech. Alternatively, there are onboard controls should you wish to use them or if your chosen headset or headphones do not feature it. Activate Siri or adjust volume with ease.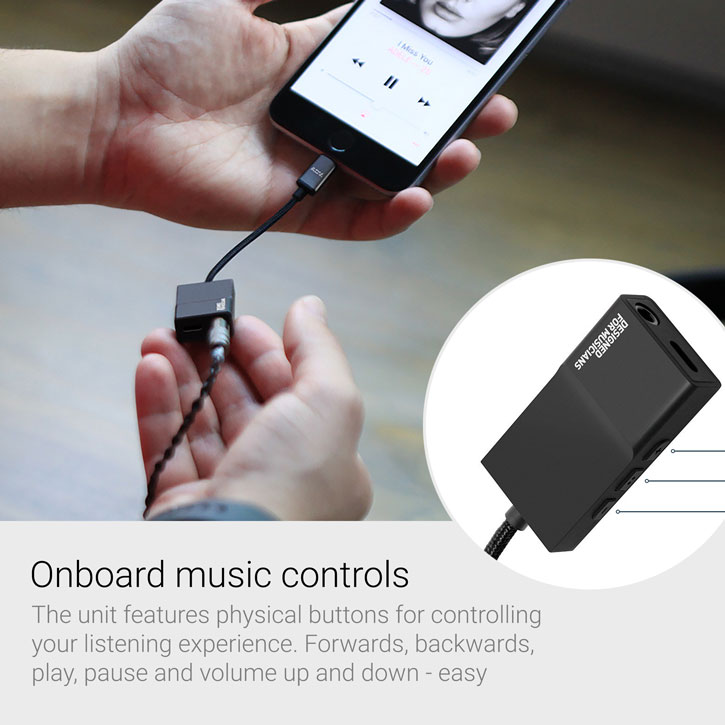 'Made for iPhone' certification
With the 'Made for iPhone' certification, you can be sure the Accessport is fully compatible with your device while also following strict Apple guidelines. This ensures this device is completely suitable for your iOS 10 or later devices.