Most useful customer reviews
Alicia Butler
Hemel Hempstead
Apple iPhone 7
10 Juli 2017
Saved my screen!
I bought this screen protector and literally two days later dropped my phone on concrete - the phone is undamaged but the screen protector is cracked at the top. It literally saved my phone/screen! I'm buying another one right now! HIGHLY RECOMMEND!
Aron Ewins
Belfast
iphone 7
4 Juli 2017
Perfect 10/10
Like no other, fits perfectly, Item dispatched very quickly, good response time to time of purchase to time of email received confirming, good customer service level having had to contact someone regarding a query.
Ingrid
Hayling Island
Olixar Tempered Glass Screen Protector
31 Mars 2017
Easy Peasy
I can genuinely say that I have never had so easy a job of putting on a screen protector. Followed the instructions on the inside of the box exactly, and it went on like a dream. Feels an extremely strong screen protector, so I'm hopeful that IF I drop the phone again, it won't shatter like the previous, more expensive one did! Also really edge-to-edge, which makes it feel very safe. Highly recommended by a 63 year old female who normally finds this sort of thing difficult :-)
52 Anmeldelser
|
Skriv en anmeldelse
---
Mer informasjon
Complete full cover edge-to-edge protection for your iPhone 7's screen
This ingenious solution to protecting your iPhone 7's screen involves a 0.3mm thick tempered glass protector that covers even the edges of the curved screen. The underside of the screen protector sits flat on the screen and matches the contours of your phone's screen perfectly. This covers the entire screen and offers complete protection.
A note on case compatibility
This screen protector is very form-fitting and does add some depth to your phone screen at the extremities. Therefore it may be wise to consider your case if using one alongside it. Certain types of cases, such as gel cases and other softer options are not going to present a problem. In fact, any case that does not encroach on the front of the screen or fascia should be fine. Some rugged protective cases may do so, and by that we mean apply pressure on the outside of the screen protector causing minor cracks that may compromise it. All cases vary by model, so please, if you're not sure, just ask us.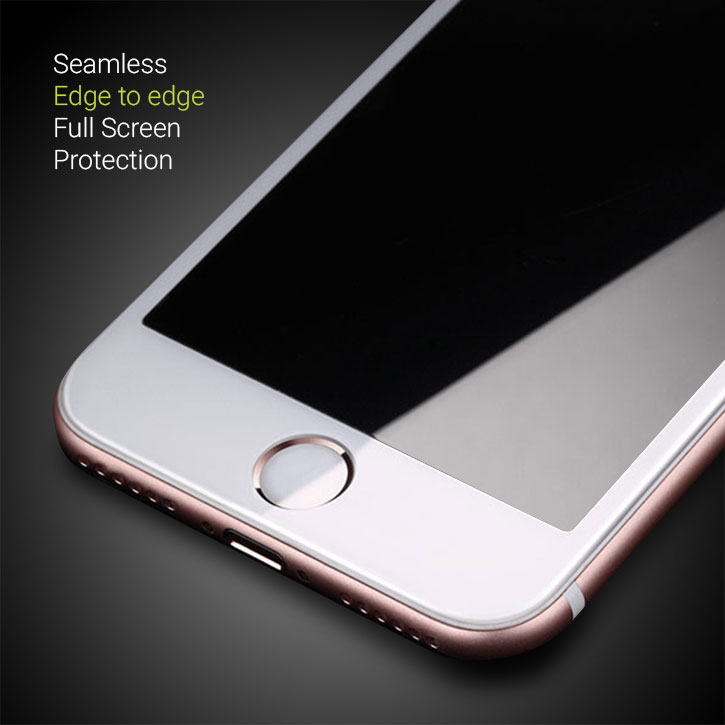 High-tension tempered glass construction for enhanced shock protection
The Olixar full cover screen protector is made from a reinforced tempered glass that maintains perfect image clarity while protecting your phone's entire screen from scratches and external shock.
Shatterproof design
Crafted with tempered glass technology inside, the Olixar Tempered Glass Screen Protector for the iPhone 7 provides you with a shatterproof design that guards your precious display from accidental bangs and drops.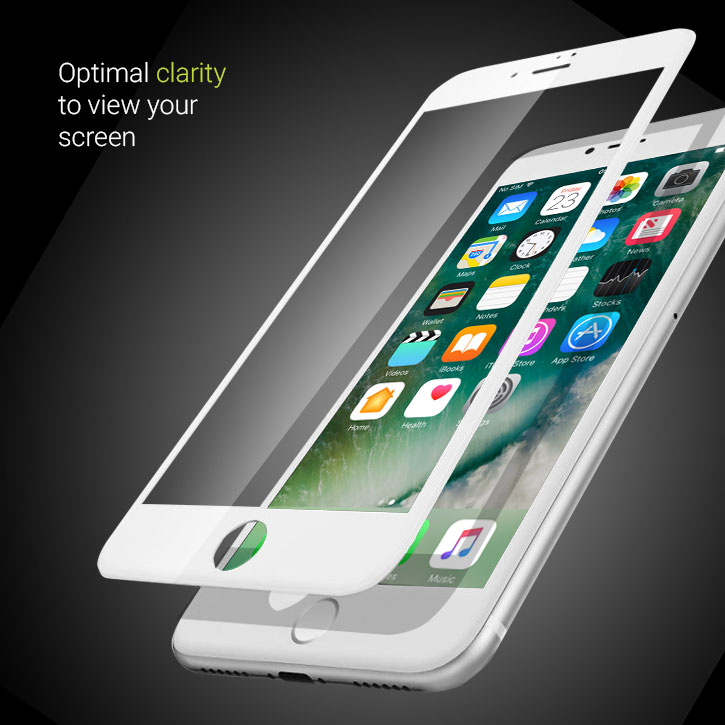 3D Touch compatible
With the iPhone's awesome 3D touch capability, its important to have a screen protector that will not hinder this function. Well, rest assured that not only will this screen protector allow you to use 3D touch as you would normally but regular touchscreen accuracy is also unaffected. So not only can you enjoy superb protection, you can use your iPhone as you would without the screen protector fitted too! We do spoil you.
Easy installation with no risk of bubbles
As this is a high quality glass screen protector and not a film, it does not bubble at all on application.

Please note: Black version used for example purposes only
Anti-scratch coating
The super-thin Olixar Tempered Glass Screen protector provides optimal clarity that resists scratches and scrapes. So you can leave your iPhone and your keys in your pocket at the same time without the need to worry about your device's screen.

Please note: Black version used for example purposes only
Oleophobic coating prevents fingerprints and makes cleaning easy
The Oleopobic coating on offer here features an oil-resistance to prevent smudges resulting from oil, cosmetics and other contaminants with no rainbow effect. Any marks and fingerprints can be wiped away easily. Enjoy optimum clarity and easy wipe cleaning to maintain a pristine clean screen!
2.5D Rounded edge for comfort and safety
The last thing you want when you have a glass screen protector sitting proud on top of your phones screen is a squared edge. Why? Well, firstly it's not safe. A right angle is sharp and sharp is not a good idea when dealing with glass. Secondly, it gets chipped more easily. While a screen protector is design to take damage, the best defence is to present a curved edge to deflect energy away from impacts. Finally, it just looks classier. You already have a curved edge on your phone's screen so match that nice curve with the 2.5D curve on offer here.

Please note: Black version used for example purposes only
0.3mm thickness adds minimal bulk to your phone
Despite offering great screen protection for your iPhone 7, the glass is only 0.3mm thick. This means it only adds an almost imperceptible amount of extra thickness to your phone, so you can be sure it is safe from harm while looking as good as new.
Made for iPhone 7
Designed specifically for the iPhone 7, the Olixar tempered glass screen protector offers a protective fit for your device.