Most useful customer reviews
ben evans
Solihull
iPhone 7
15 Mai 2017
Does the job
Great product at a great price and really does work
Miss Henrietta T Charles
Swansea
iPhone 7
2 Oktober 2016
Great Screen Protector
I recently bought Olixar iPhone 7 Screen Protector 2-in-1 Pack from mobilefun and it arrived as they said it would about 3-5 days after purchasing and the product is really great compared to other screen protectors that have had at the past,I just got a new iPhone 7 and I wanted a nice screen protector that will fit & protect well my device and this is absolutely what have always been looking for.I would recommend anyone if you looking for a screen protector or any devices for your phone to visit mobilefun you won't be disappointed.
vicky
lincolnshire
iphone 7
26 September 2016
Olixar iPhone 7 Screen Protector 2-in-1 Pack
These are brilliant easy to apply and protect the screen really well. Great value for money. would highly recommend these for your phoe.
8 Anmeldelser
|
Skriv en anmeldelse
---
Mer informasjon
Forhindrer at skjermen får riper og andre skader
Olixars skjermbeskyttere er utformet for å forhindre at telefonskjermen får riper og skraper som gjør det vanskelig å se på skjermen. Ved å opprette en slitesterk barriere mellom skjermen din og verden, vil eventuelle skader kun gjøres på skjermbeskytteren og ikke telefonen din. La telefonen din se ut som den er ny.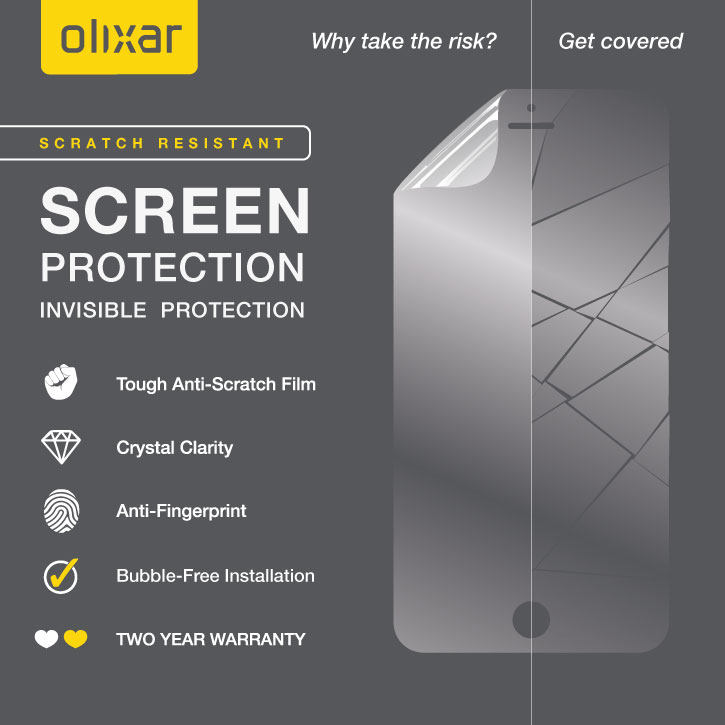 Enkel å påføre
Olixar skjermbeskyttere er enkle å påføre, siden de er spesial laget for hver modell. Bare rengjør skjermen din med den medfølgende mikrofiberkluten, legg skjermbeskytteren på linje med telefonen og bruk den medfølgende kortet til å jevne ut eventuelle bobler. Når skjermbeskytteren er påført er den nesten helt usynlig.
Krystallklar og usynlig beskyttelse
Selv om det er viktig å beskytte skjermen er det også viktig at skjermbeskytteren ikke er til hinder for din bruk av smarttelefonen, enten ved at skjermen blir smussete eller ved at følsomheten i berøringsskjermen reduseres. Olixar skjermbeskyttere er spesial laget for å gi en optimal klarhet, samtidig som den er tynn nok til å holde berøringsskjermen i perfekt stand. Når den først er på vil du ikke en gang legge merke til Olixar skjermbeskytteren.
Kommer med 2 skjermbeskyttere for dobbel beskyttelse
Olixar skjermbeskyttere kommer nå i 2 pakninger, slik at du får 2 ganger beskyttelse for din iPhone 8 / 7. Du trenger ikke å kjøpe andre skjermbeskyttere innenfor telefonens levetid med denne Olixar 2-i-1 skjermbeskytter pakken.