Most useful customer reviews
I. RATHMILL
Swansea
Samsung galaxy s7
29 Juni 2017
Excellent
Excellent product. Does what it says on the tin. Works as described. Thank you.
Irene Rathmill
Swansea
Samsung galaxy s7
17 Juni 2017
Good product
Absolutely brilliant. Just what was needed. Works well now there's no more arguments about what goes in the middle well. We both have everything to hand. So easy. Thank you
10 Mai 2017
Works Great
I was surprised how well this works. i bought 2 on one of there deals and have one on my glass desk and one in the car. They are really quick and easy to use. Plus you can store your other loose items in the tray.
162 Anmeldelser
|
Skriv en anmeldelse
---
Mer informasjon
Securely holds your smartphone and other items on your car dashboard
The Sticky Dashboard Mat is constructed from a innovative silicone material which is designed to securely hold your items onto your car dashboard and prevents them from being able to slip off. This allows the Sticky Dashboard Mat to securely hold your smartphone, loose change, glasses and much more on your dashboard without having to worry about them falling off and becoming lost or damaged.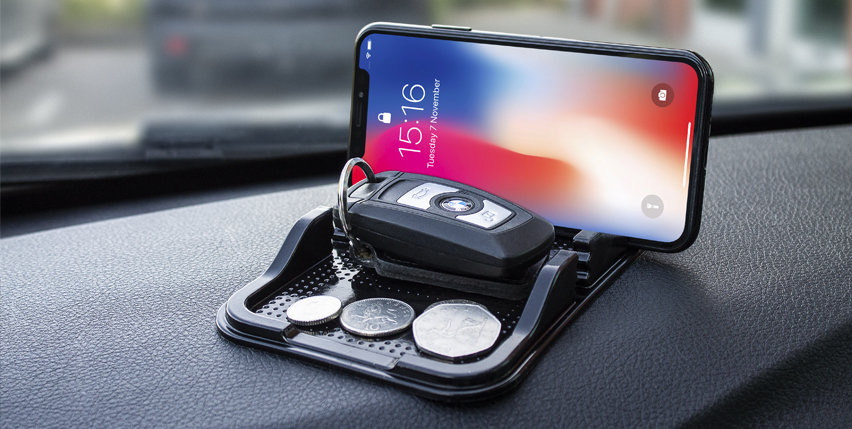 Integrated cut-out to hold your phone at a view-able angle
The Sticky Dashboard Mat also features two integrated cut-outs on either side. This allows you to hold your smartphone in a horizontal orientation securely on your dashboard. By doing this, you can still use your device for Sat Nav applications and drive safely without your device obscuring your view of the road.

Adhesive-free design ensures no sticky residue is left behind
The special silicone material which the mat is made from is designed so that it creates a secure bond with your car dashboard which prevents it from being able to slip, or come loose, whilst you're driving around. The mat maintains a secure hold to your dashboard even around tight corners and speed bumps to ensure that it won't drop your smartphone or other accessories and risk them becoming damaged.
Flexible mat which bends to the contours of your dashboard
The silicone material is also extremely flexible which allows it to bend around the contours of your dashboard and provides a firm and secure grip even when you're placing larger handsets onto the mat - such as the iPhone 6 Plus. The flexible properties make it perfect for securing your device at even the most acutest angles and ensures that it won't come loose.

Can be washed to restore the sticky properties
Dust and dirt can build up on the Sticky Dashboard Mat over time which will cause it to lose some of its adhesive properties. In order to restore the mat to its previous glory simply wash the pad and allow it to dry. Once it's dried out, the sticky properties will be restored to that of the day you bought it.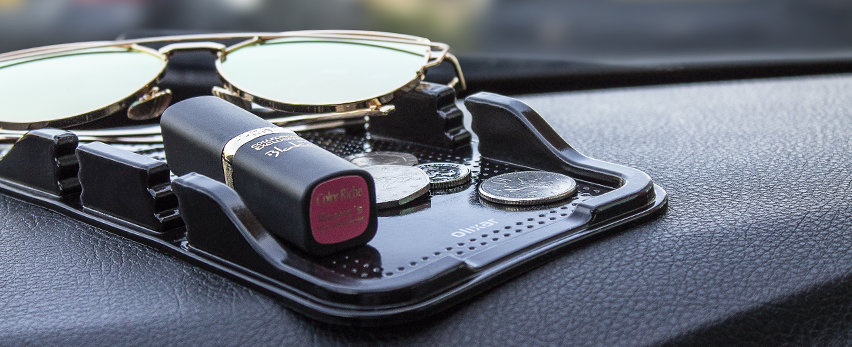 Technical Specifications
Dimensions - 185 x 105 x 18 mm