OtterBox Strada Series Samsung Galaxy S7 Edge Leather Case - Black
Produktets artikkelnummer: 77-53311
Produktnummer: 57815
A sophisticated lightweight black genuine leather case, the OtterBox genuine leather wallet cover offers perfect protection for your Galaxy S7 Edge, as well as featuring slots for your cards, cash and documents.
"Really nice phone case."
"The case is good value and quality"
"great!"
Most useful customer reviews
Mr Taylor
Lancashire
Samsung galaxy S7 edge
1 Mai 2017
Really nice phone case.
Before I purchased this product it was important that the phone case was:- 1) Leather 2) Well made 3) Access to charging and other requirements. 4) The phone was secured safely in the case. 5) Stylish finish. 6) A good quality magnetic closure.
Denis Wood
Newton Abbot
Samsung s7 edge
7 April 2017
The case is good value and quality
The case is good value and quality delivery is excellent a very easy company to deal with
elena
nicosia
samsung galaxy s7 edge
17 Desember 2016
great!
great case! very solid base and not sleak in the hot summer, give you full protection, specially screen, axcept for charging port excellent, nice feet on the hand, thank you very much for great product! For this price i get what i want
61 Anmeldelser
|
Skriv en anmeldelse
---
Mer informasjon
Genuine leather
This genuine leather wallet case keeps your Galaxy S7 Edge secure and enclosed in a protective cover, while remaining stylish for all to admire. This is a premium quality case with an executive style designed by the company renowned for protecting your device... OtterBox, leaving no doubt as to its quality and phone protection.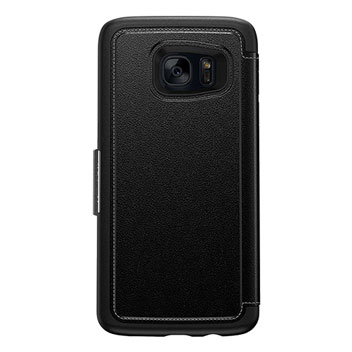 Sophisticated protection for the Galaxy S7 Edge
Underneath the sturdy and stylish genuine leather casing is a strong housing that will keep your handset safe and protected. Just pop your phone into the case and it will sit comfortably within its soft gentle surroundings.

Screen cover to protect your display
Not only will the back and edges of your Galaxy S7 Edge be protected, but the screen also with this soft leather folio-style case that wraps around your phone's display - keeping it safe from harm when not in use.
Slot for your credit card
This thoughtful design has it covered with inner pouches specially designed to hold credit cards, cash, store cards, driving licence or anything else of similar size. It also features a document pocket for anything larger. So you can leave your old wallet at home as this case has it all covered.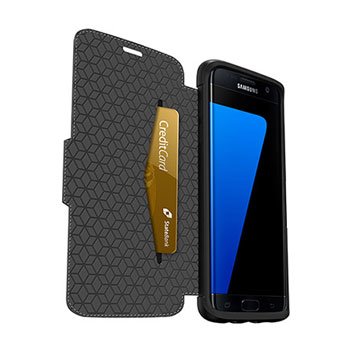 Designed specifically for the Samsung Galaxy S7 Edge
As this Strada Series case by OtterBox is designed specifically for the Samsung Galaxy S7 Edge, you can be sure of a perfect fit and access to all of the device's ports and features.