Mer informasjon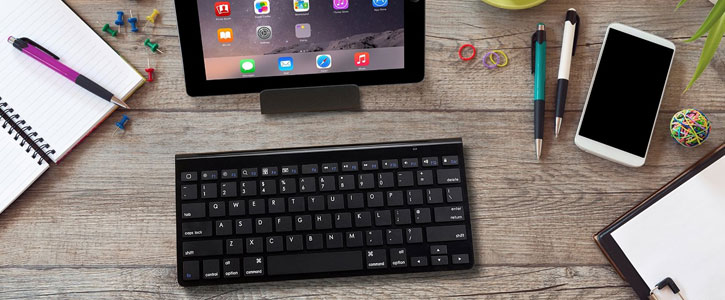 Provides you with the freedom to work anywhere
The Kit Premium Wireless Bluetooth Keyboard will bring comfort and convenience to your texting and emailing world and allow you the freedom to work anywhere. It is small enough to be carried around with your phone, but much easier, quicker and more accurate than using the onscreen keyboard or T9 keypads, allowing you to be more efficient whilst on-the-go.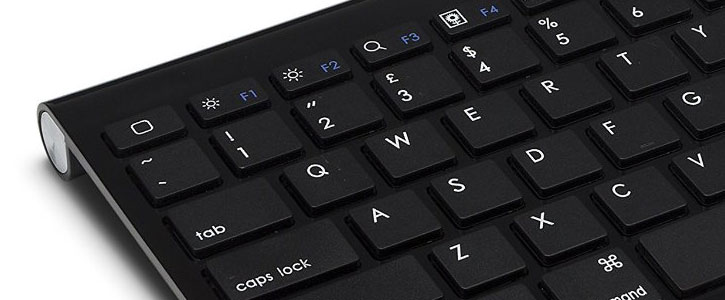 Sleek, modern styling
Crafted from the highest quality materials, including tough polycarbonate and aluminium, the Kit: Premium Bluetooth Keyboard delivers a look and feel that compliments your device and surroundings perfectly.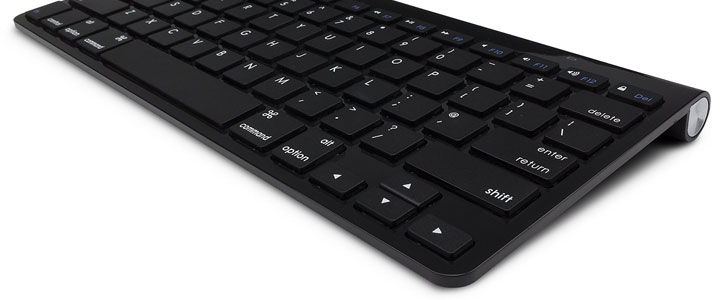 Simple Bluetooth connection couldn't be easier
The keypad simply connects via Bluetooth to your device and is compatible with devices such as smartphones and tablets from iOS, Android and Windows platforms.
Quick iOS shortcut keys
When you're in full work mode, you don't want to constantly switch between touch and typing. Not to worry - this device's Command key can be used to access quick iOS shortcut keys for crucial functions like media playback, copy-and-paste and screen sleep / wake, as well as productivity suite features such as justification and text formatting - so you can do everything from the keyboard.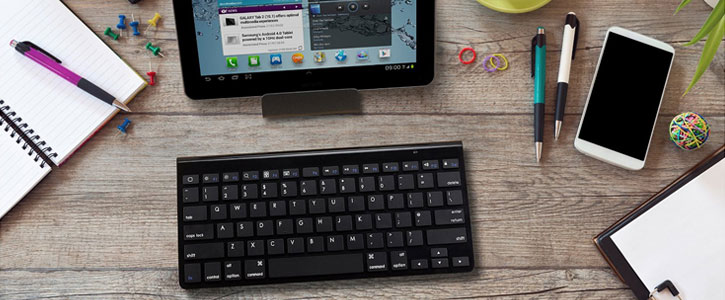 Slim and Lightweight design
The Premium Bluetooth Keyboard form Kit is also super slim and lightweight so you can take it with you anywhere. Perfect for use at home, at work or on the go, the Kit Premium Bluetooth Keyboard fits neatly in any bag and is light enough to carry around all day.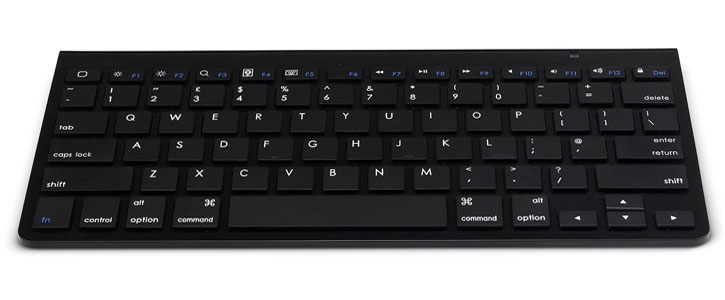 Full QWERTY sized keyboard
Don't struggle with accuracy and speed when typing on your small touchscreen devices, feel the benefits of a full sized QWERTY keypad, with all the features and functions of a normal keyboard.
LED Status Lights, so you always know what's going on
With a red and green status light in the top right hand corner of the Bluetooth keyboard from Kit, you can be sure to know exactly when you need to change your batteries, to make sure it never runs out of juice and is always available when you need it most.
Technical Specifications
Dimensions: 330 x 135 x 25mm
Compatibility: Windows, iOS and Smartphone (with HID)
Range: 10m
Power: 2x AAA battery
Standby Time: 90 days
Working time: 90 hours