Most useful customer reviews
Katherine Killerby-Schoeman
Scotland
Samsung Galaxy 7
15 Juni 2017
Wonderful Gift
I absolutely love the Olixar Universal Smartphone Photography Kit. I bought it as a birthday gift for my husband and he is crazy about it. As we travel so much and need to keep luggage minimal it is perfect as everything comes in a lovely bag.This is the second time I have purchased from mobilefun and I will continue to use them. Their products are fantastic, prices are competitive and deliveries are on time.
Mario Mallia
MALTA
Huawei G8
7 Januar 2017
SPOT ON!
Got what it says on the ad ... very practical and worth it. The only difficulty is that I am a bit worried that the clips might damage the screen due to the fact that I use a Huawei and the camera is not at the back of the frame as is the case for other models. Perhaps you might design a strip rather than a clip This would be universal for all models. THanks!
5 Januar 2017
perfect
simply the perfect kit to be a photography geek
31 Anmeldelser
|
Skriv en anmeldelse
---
Mer informasjon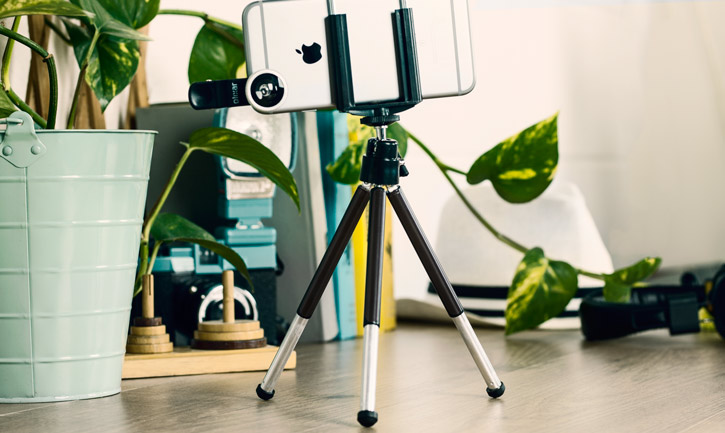 Complete smartphone photography solution - all in one kit
Whether it's selfies, holiday snaps, observing and documenting nature, journalism... you name it, smartphones are now more heavily involved and called upon in everyday photography situations than ever...
Good news then, that there is now an all in one solution for all your smartphone photography needs. And you can easily and conveniently carry it with you in its own hand roll up carry case. The entire kit weighs only 250g so is very portable. With a pocket selfie stick, a brilliant and highly acclaimed multiple lens kit and a sturdy lightweight folding tripod with spring action mount, you now have all you'll ever need to go snapping with your smartphone, no matter what the requirements.
Let's take a look in detail at the fantastic components of this all killer, no filler kit...
Contents include:
3-in-1 lens kit - Instantly enhance your photography
Pocketsize selfie stick with mirror - Capture the perfect selfie
Tripod with telescopic legs - For steady precision shots
Roll-up carry case - Portable protection for your photography accessories
So let's take a closer look at the Olixar Universal Smartphone Photography Kit...
> 3-in-1 Lens Kit
The Olixar 3-in-1 universal Clip Camera Lens is a unique clip-on lens solution, which allows you to instantly transform your smartphone or tablet camera to take one of three different types of photo using the included lens: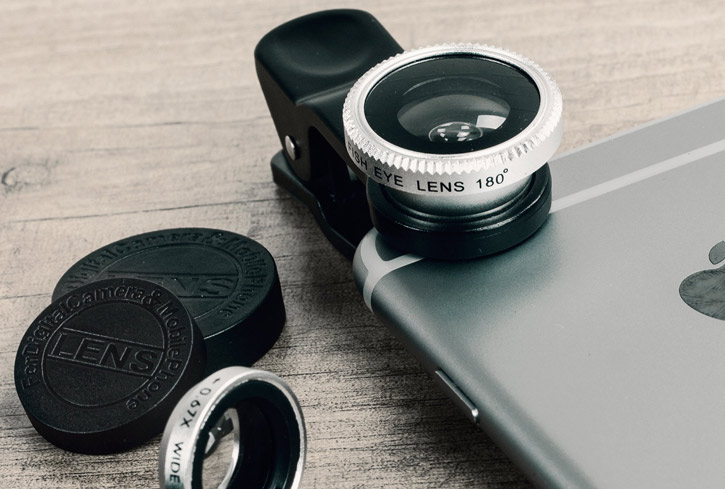 - Wide Angle Lens - Perfect for capturing more of the world around you, allowing you to take photos of landscapes and group photos far easier than ever.
- Macro Lens - The Macro lens allows you to achieve shots that are extremely close to an object, great for taking shots of small items to view every last detail up close.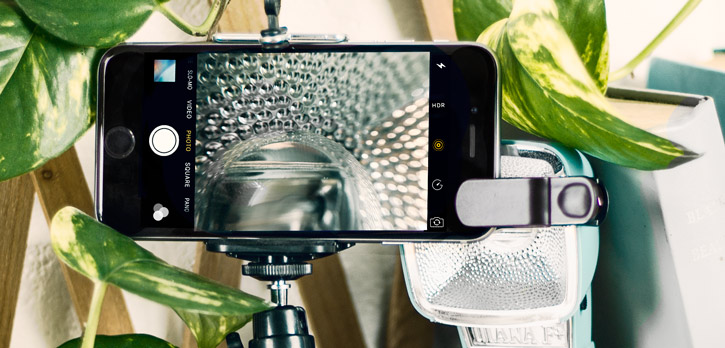 - Fisheye Lens - With rounded edges instead of square ones, the Fisheye is an ultra wide angle lens.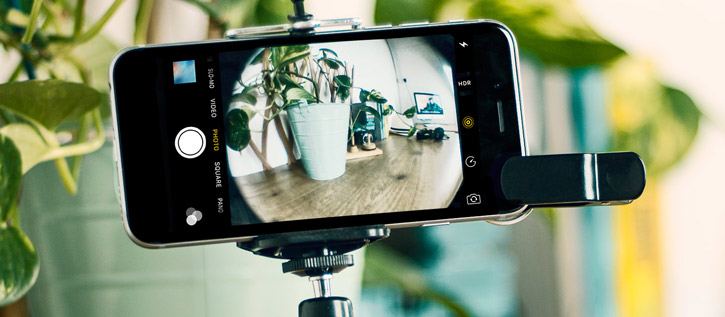 Highly portable quick-connect solution
The 3-in-1 Universal Clip Camera Lens is unique in that it does not require a special case or adapter. Simply use the clip to attach over the existing camera on your smartphone or tablet for immediate results. The kit includes a nice carry bag for extra convenience and a Lens cleaning cloth to keep you snapping perfectly for longer.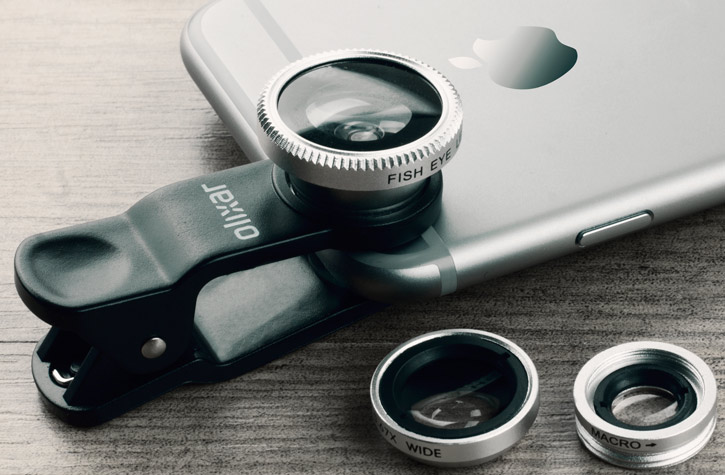 Supports use with any photography apps
The 3-in-1 Universal Clip Camera Lens perfectly accompanies your device's photography apps in order to create truly unique and stunning images. Ideal with instagram, Camera+, Hipstamatic and many more, so you can experiment and create exciting new photographic styles.
Please Note: The Macro Lens is accessed by unscrewing itself from the Wide Angle Lens.
> Pocketsize Selfie Stick with Mirror
Taking the perfect selfie isn't as easy as it would seem. Our arms are only so long, which means you can miss out on not just the surroundings, but even the people you wish to feature.
Thankfully, we now have a method of capturing the perfect selfie, ensuring 'everything' and more importantly 'everyone' is within the photo for all of you to enjoy that special once in a lifetime moment.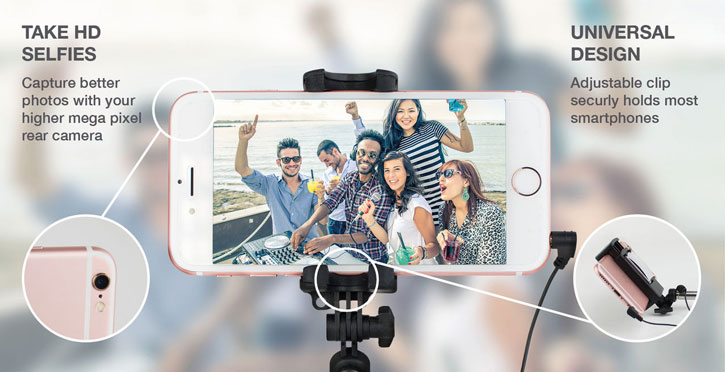 No need to strain when stretching your arms, simply attach your phone to the secure holder and expand the Selfie Pole with Mirror. With your shot positioned exactly how you want it, you are ready to take an image.
Built-in mirror to use your phone's higher quality rear facing camera
With traditional selfie sticks, you are limited to using just the front facing camera on your phone as this is the only way you can preview the shot you are taking. This means you can't take advantage of the much more capable rear facing camera that on modern smartphones features HD capture capabilities for truly stunning photography.
The Olixar Selfie Pole features a built-in mirror, so you can line up your shot with this super reflective surface instead of your phone's screen. Capture your perfect photo with the much more impressive rear facing camera - providing high definition photography.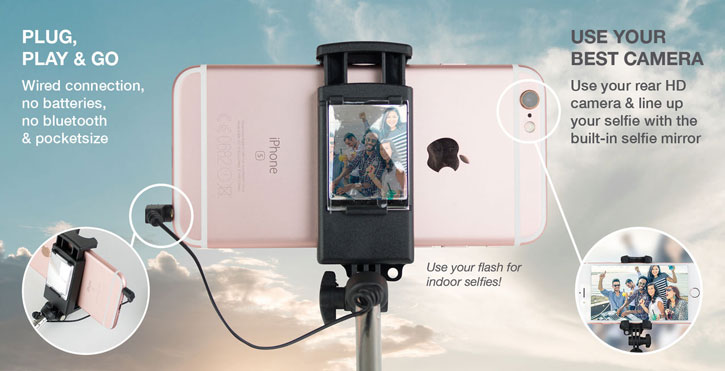 No need to recharge, easy to use no Bluetooth pairing required!
The Olixar Pocketsize Selfie Stick has no battery due to the way it connects to your smartphone. This means your Olixar Pocketsize Selfie Stick never runs out of charge and is always ready to capture those all important selfie moments.
Using your phone's headphone port, the Olixar Pocketsize Selfie Stick doesn't require Bluetooth technology or pairing to your smartphone - simply plug into your phone and take a photo within seconds.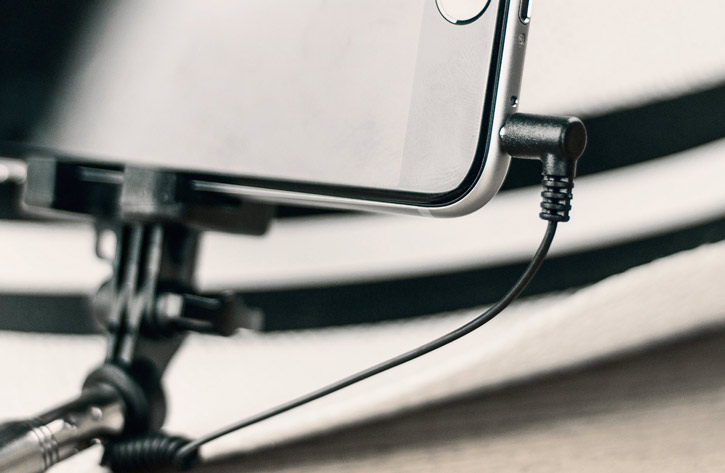 Built-in button to capture an image in comfort with retractable mini pole for portability
With your phone positioned further away, you need a straightforward method of telling the software to take the image without having to stretch needlessly into the distance to reach your device's screen. The Olixar Pocketsize Selfie Stick features a built-in button that with one press instructs your phone to take an image. You can also use the button to capture video as well!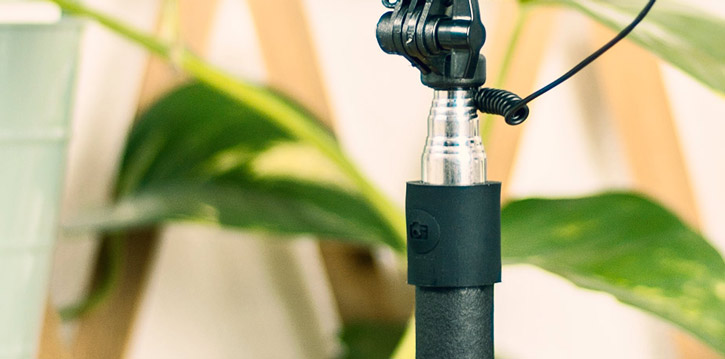 You can't carry a pole around with you all day... or can you! Well actually, yes you can thanks to the Selfie Pole's retractable design. Extend or retract the pole, making it the perfect accessory to carry around with you for when the perfect selfie opportunity arises. The Selfie Pole extends to 480mm for capturing photos and retracts to 170mm for super easy portability. Of course, when using as part of this kit, you can just slot it into the carry case.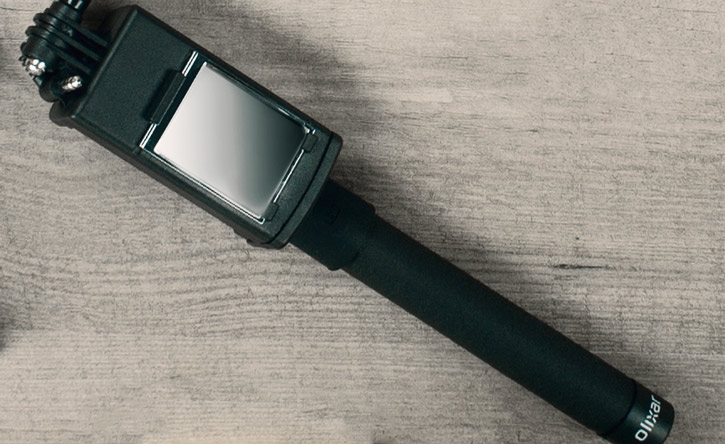 Note: Compatible with smartphones between 55mm - 90mm in width.
Case compatible
You can also leave the case on your phone as you mount your device on the Selfie Pole. Compatible with all but the most chunky of cases, the Selfie Pole is ready for action whether your case is on or not.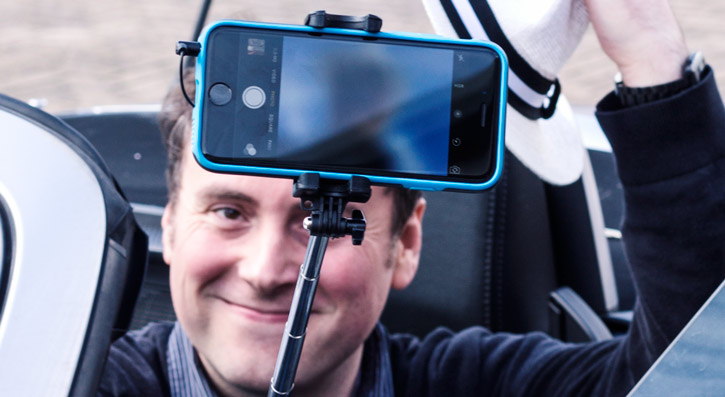 Compatible with Android or iOS devices
Compatible with both Android and Apple devices, the Selfie Pole is the ideal companion for your selfie photography needs.
Note: Android users may need to configure their default camera app to use the 'Volume Up' feature to trigger a photo for the Selfie Pole to operate correctly.
> Tripod with telescopic legs and spring-loaded jaws
No matter how much your smartphone claims to have multi-axis laser stabilising camera technology, the very best way to ensure perfectly crisp and clear imagery is to use a tripod. Now, this isn't always possible of course and there's no reason why you can't take great imagery on the move, with your phone in your hand, but whenever possible, a stable tripod is ideal. Thankfully, such a tripod is included in this awesome kit.
With spring-loaded jaws that stretch from 56 to 86mm, it will accommodate most phones on the market and hold them in a very firm grip too. The telescopic legs extend from 95 to 150mm, giving you a whole range of options in your photography. The ball joint featured at the heart of the tripod can rotate on several axis and is locked simply into place when you have the ideal angle.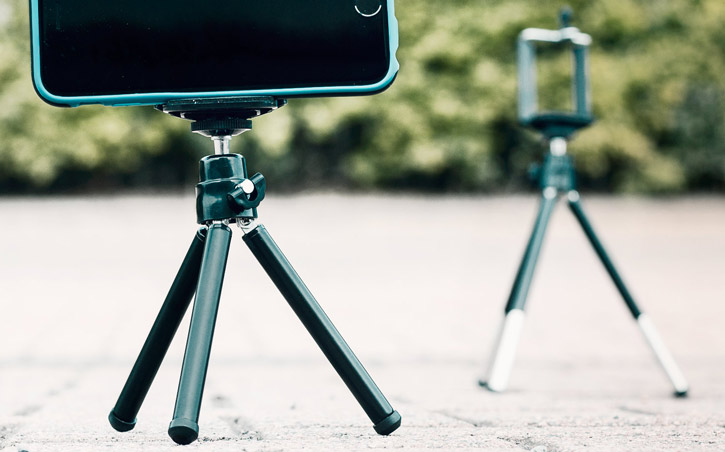 > Roll-up carry case
Carry your Olixar photography items all in one place with the included carry case. Perfect for taking with you on holidays and day trips, the portable carry case stores your lens kit, tripod and selfie stick to protect your accessories.