Most useful customer reviews
15 Juli 2016
Thanks its werry good
Thanks its werry good
28 April 2016
Great product
great product. exactly what we needed
Tim Upton
Taunton
Samsung Galaxy, Samsung Tab & iPhone
27 April 2016
Excellent
Excellent product came into its own when we went to Venice as we could charge 3 products at once. Added bonus was it was on BOGOF. So one will be at home the other for travelling. Saves having to unplug the other one. My other half uses it more than me, as she has more gadgets. Iphone, Samsung Tab & Samsung Galaxy mobile. Also as usual excellent service from Mobilefun arrived within 48hrs. Great product & company. Very pleased as always
10 Anmeldelser
|
Skriv en anmeldelse
---
Mer informasjon
Supports use with Apple Lightning, Apple 30-pin, Galaxy Tab and Micro USB devices
Designed to be the only cable that you will ever need - this 4-in-1 cable features Apple Lightning, Apple 30-pin, Samsung Galaxy Tab and Micro USB connectors - designed to charge any device which uses any of these adapters.
With more and more devices using Micro USB charging adaptors, this cable is also designed to be future proof - so you won't need to keep purchasing new cables to match your numerous devices.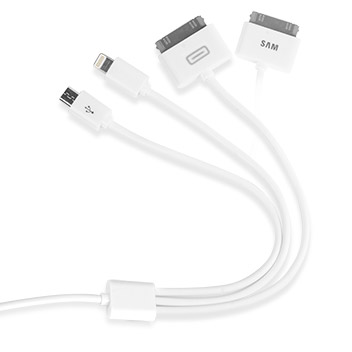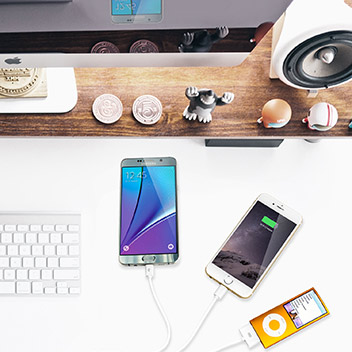 PLEASE NOTE: Due to the varying amperage required for different handsets this cable may not be suitable for charging multiple devices from low powered USB ports.
Provides quick and easy charging of a wide range of devices
Quickly and easily charge your mobile devices with the 4-in-1 cable.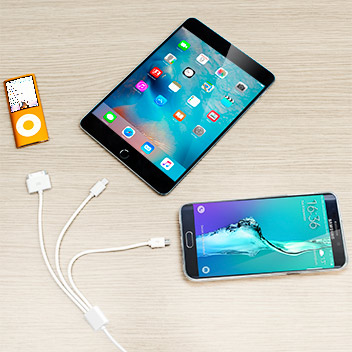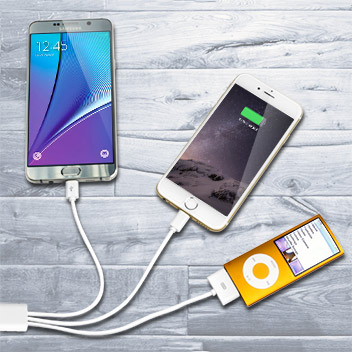 Designed to give you complete freedom, the 4-in-1 cable allows you to charge all of your devices without having to carry around different cables with you all the time.
This is the perfect solution for on-the-go lifestyles and multiple device owners.
Dual use connector - flip the Apple 30-pin connector and use it on Samsung Galaxy Tab devices
The Apple 30-pin connector on this 4-in-1 cable also doubles as a Samsung Galaxy Tab connector. When you place it in one way, it will fit into Apple 30-pin devices such as iPods and iPad - flip it over and it will now fit into Samsung Galaxy Tab devices.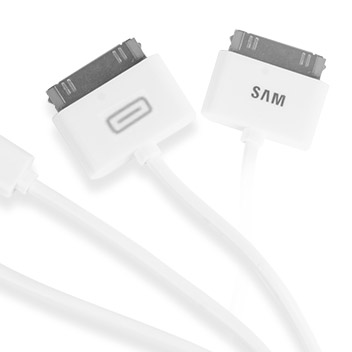 Simultaneous charging - charge all devices at once
With this 4-in-1 Charging cable you can charge all of your devices at the same time, using just one USB cable.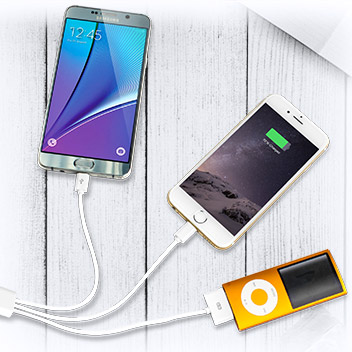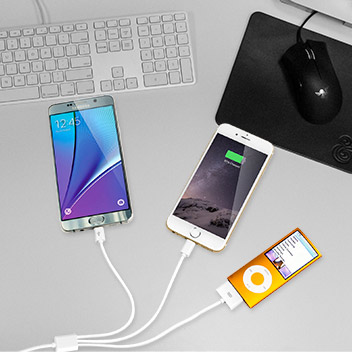 1 metre in length
Getting your cable to connect behind sofas, under desks and near plug sockets can be difficult without the correct length. 1 metre is just the right amount to connect to those hard to reach locations, but short enough to carry it when on the move.