Most useful customer reviews
Hannah Spencer
Bradford
Samsung Galaxy S6
5 Januar 2017
Fantastic product!
This is a super sturdy case and my phone fits perfectly in it, with cut outs for the buttons and camera that are really convenient. The canvas feels very strong and my phone fits very snugly in the rubber holder. The card holder pockets are a bonus and are deep enough so they won't get damaged and won't scratch the phone. I would absolutely recommend this product!
11 Desember 2015
Wow
I ordered this when it only had a few pictures on the basis I could return it if it wasn't as expected. I was blown away for the money, really nice fabric, stitching, holds the phone well and seems to offer good protection
19 Anmeldelser
|
Skriv en anmeldelse
---
Mer informasjon

Canvas style material for hard wearing protection
This canvas style travel wallet stand case keeps your Samsung Galaxy S6 secure and enclosed. It features an attractive canvas textured hard wearing material that will take all the beating your iPhone might otherwise. This material is perfect for travel and looks great.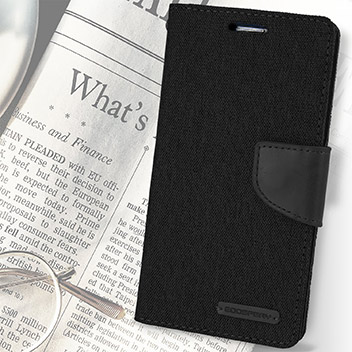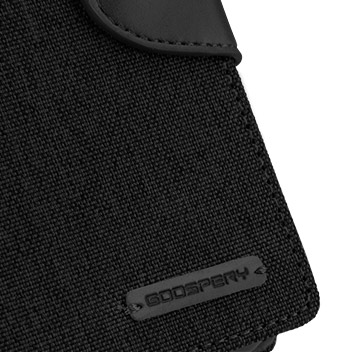 Opens and closes with magnetic clasp, for ease of use
The magnetic fastener on the Mercury case will ensure that once closed, your Samsung Galaxy S6 will stay safely protected within the case and will prevent it from coming loose.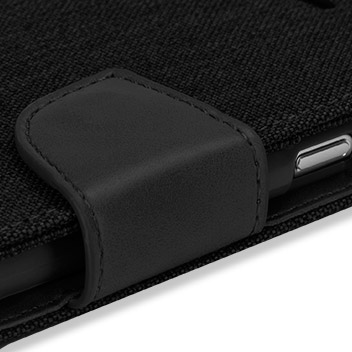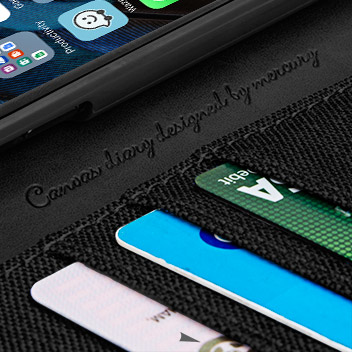 Pouches inside for credit cards
Who wants to be carrying around a wallet/purse and a phone case? This thoughtful design has it covered with inner pouches specially designed to hold credit cards, store cards, driving licence or anything else of similar size. A handy 3 slots for cards are provided with a larger pouch for cash, documents and other items. This makes the case ideal for use when travelling and means your smartphone's screen stays scratch free at the same time. In fact no other wallet case can claim this amount of card space!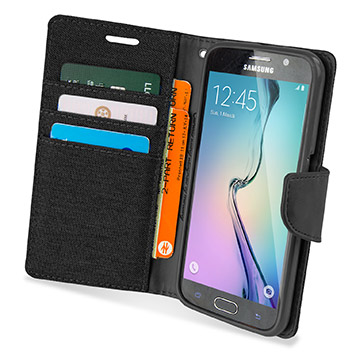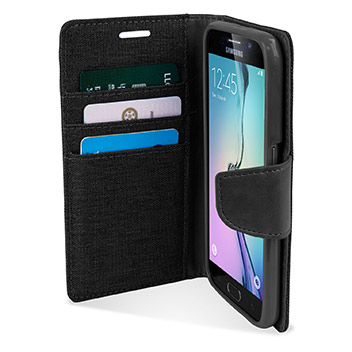 Integrated stand allows for easy watching of media
Watch your favourite content the way you want to. The Mercury Canvas Diary Multi-Function Wallet Case lets you position your Samsung Galaxy S6 at the angle that suits you best. The cleverly designed cover converts into a stand, so you can position your phone at whatever angle is most comfortable for you.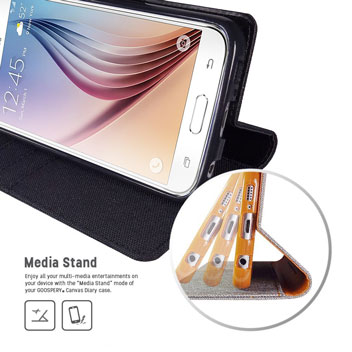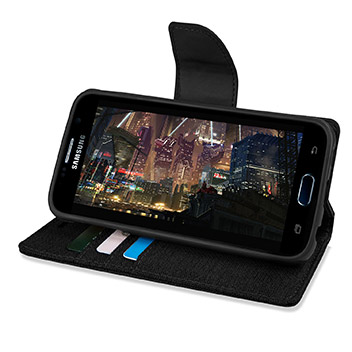 Stitch finishing, making this case look more beautiful
The Mercury Goospery Fancy Wallet case features stitching around the exterior contours of the case, which adds a high quality look as well as sturdy construction.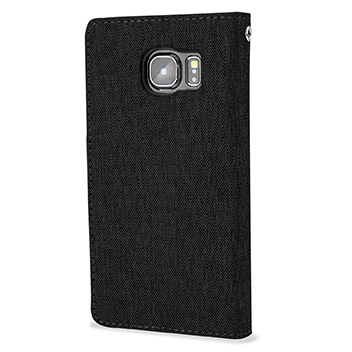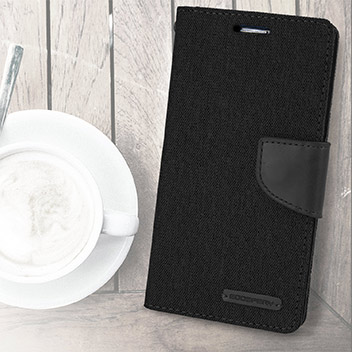 Protection for the Samsung Galaxy S6
The case has been specially designed for the Samsung Galaxy S6, so you are giving the best possible fit. Underneath the sturdy canvas-style casing is a strong plastic frame that will keep your handset safe and protected.