Most useful customer reviews
Vivienne Adams
Manchester
iPhone 6s
3 Mars 2017
High quality screen protector
I have had various types of screen protectors in the past. Glass is definitely the best both in terms of usability and appearance. This one is better than others I've had because of its design : it's tapered edge makes it more resistant to nicks and improves its appearance as well as the feel of the screen. It is v high quality and I wish I'd found it before now.
steve newton
somerset
i phone 6s +
7 November 2016
Customer Service
I ordered the incorrect protector, sent mail to customer services and within 30 minutes had a reply stating the correct one would be sent. The Olixar Glass Protector is simple to fit.
Alan donaldson
Northern Ireland
iPhone 6s
4 Oktober 2016
Great protection
Great value, and easily fitted. Brilliant service by mobile fun delivering when promised.
88 Anmeldelser
|
Skriv en anmeldelse
---
Mer informasjon
High-tension tempered glass construction for enhanced shock protection
The Olixar screen protector is made from a reinforced tempered glass that maintains perfect image clarity while protecting your phone's screen from scratches and external shock.
Shatterproof design
Crafted with tempered glass technology inside, the Olixar Tempered Glass Screen Protector for the iPhone 6S provides you with a shatterproof design that guards your precious display from accidental bangs and drops.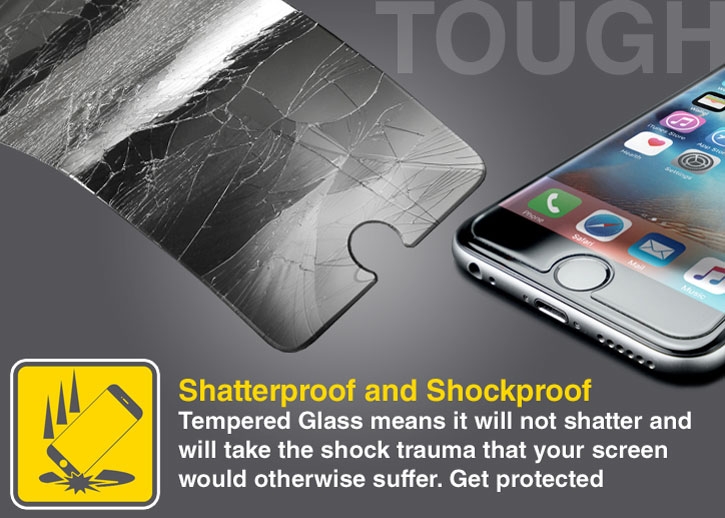 3D Touch compatible
With the iPhone's awesome 3D touch capability, its important to have a screen protector that will not hinder this function. Well, rest assured that not only will this screen protector allow you to use 3D touch as you would normally but regular touchscreen accuracy is also unaffected. So not only can you enjoy superb protection, you can use your iPhone as you would without the screen protector fitted too! We do spoil you.
Easy installation with no risk of bubbles
As this is a high quality glass screen protector and not a film, it does not bubble at all on application.
Anti-scratch coating
The super-thin Olixar Tempered Glass Screen protector provides optimal clarity that resists scratches and scrapes. So you can leave your iPhone and your keys in your pocket at the same time without the need to worry about your device's screen.
Oleophobic coating prevents fingerprints and makes cleaning easy
The Oleopobic coating on offer here features an oil-resistance to prevent smudges resulting from oil, cosmetics and other contaminants with no rainbow effect. Any marks and fingerprints can be wiped away easily. Enjoy optimum clarity and easy wipe cleaning to maintain a pristine clean screen!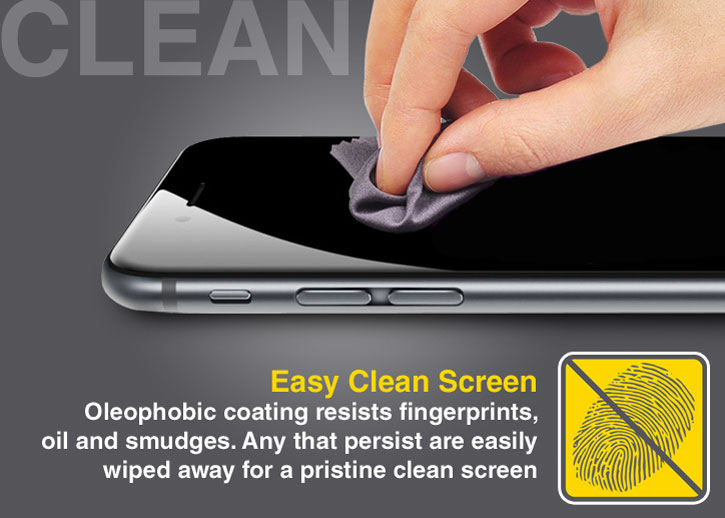 2.5D Rounded edge for comfort and safety
The last thing you want when you have a glass screen protector sitting proud on top of your phones screen is a squared edge. Why? Well, firstly it's not safe. A right angle is sharp and sharp is not a good idea when dealing with glass. Secondly, it gets chipped more easily. While a screen protector is design tp take damage, the best defence is to present a curved edge to deflect energy away from impacts. Finally, it just looks classier. You already have a curved edge on your phone's screen so match that nice curve with the 2.5D curve on offer here.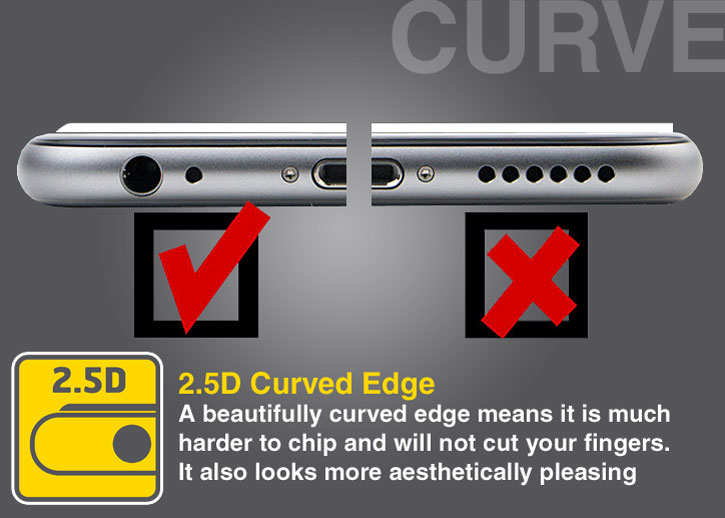 0.26mm thickness adds minimal bulk to your phone
Despite offering great screen protection for your iPhone 6S, the glass is only 0.26mm thick. This means it only adds an almost imperceptible amount of extra thickness to your phone, so you can be sure it is safe from harm while looking as good as new.
Made for iPhone 6S
Designed specifically for the iPhone 6S, the Olixar tempered glass screen protector offers a protective fit for your device.