Most useful customer reviews
Tania Mc Areavey
Aberdeenshire
iPhone 7
30 Januar 2017
Amazing piece of kit
The quick tap is amazing for women & men with small hands, it truly allows U to use the buttons on the top of ur phone at the bottom so moving around is fast & much more comfortable, coupled with the shatterproof glass which has saved many breakages, this is truly worth the money, I love it & have converted many of my friends & family, I have recently moved on to a 7 so can't wait for it to come out for that. This is a little gem & once U have 1 U will wonder how U ever did without it - guaranteed
Chris mc carthy
Dublin
Iphone 6
22 August 2016
Tempered glass
Excellent quality at a reasonable price,bought for my daughter's phone so peace of mind gauranteed,fitting guide made fitting easy
17 April 2016
The Olixar Quick Tap Screen not only protects the iPhone, it also enhances accessibility
The Olixar Quick Tap Screen not only protects the iPhone, it also enhances accessibility by giving access to the top of the screen from the bottom. I still work the phone with both hands but this gives me extra flexibility. However, sometimes the touch screen access does not work straightaway.
37 Anmeldelser
|
Skriv en anmeldelse
---
Mer informasjon
Why Quicktap?
There's nothing wrong with ordinary glass screen protectors, they offer great protection and keep your screen bubble free. But why not add some vital functionality to your iPhone if you can? Olixar can and did. This screen protector offers unbelievable new technology whereby you can physically effect one part of your screen by touching another. Why is this important? Well, as an iPhone user, you will know that your menu options are top left and top right of your screen. Invariably you will be holding your phone near the bottom and thus the stretch to use the menu without another hand is awkward to say the least.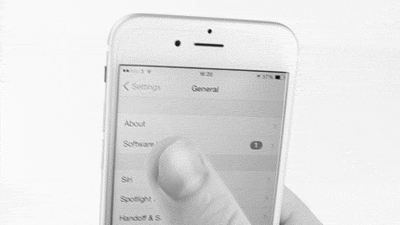 ...right?

Well now, this is no longer the case. By pressing to the left of the home button you can select the left menu at the top of the screen. Similarly, by pressing to the right of the home button you can select the right menu option. What this will do depends on the application of course but essentially what this means is that you can use your iPhone with one hand, easily.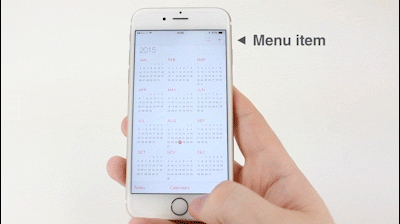 The Earl of Sandwich came up with a famous snack so that he could eat with one hand while holding playing cards with the other. Now you can eat a sandwich with one hand while surfing Safari with the other. Perfect! With two extra virtual buttons your iPhone 6 is unstoppable!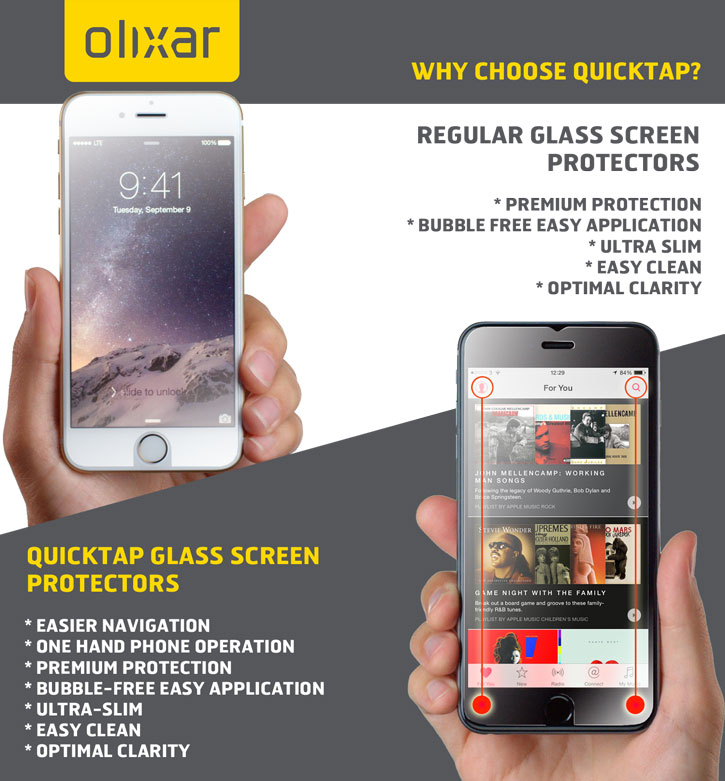 Active screen elements make menu navigation a breeze
So we've discussed what happens, but not how. Well, thanks to invisible active screen elements, your instructions are carried to the relevant menu option instantly. No lag, and no awkward hand stretching. What was previously the preserve of Android phones is now your to command. Your iPhone will never be more user friendly, functional or protected as when fitted with the awesome Quicktap.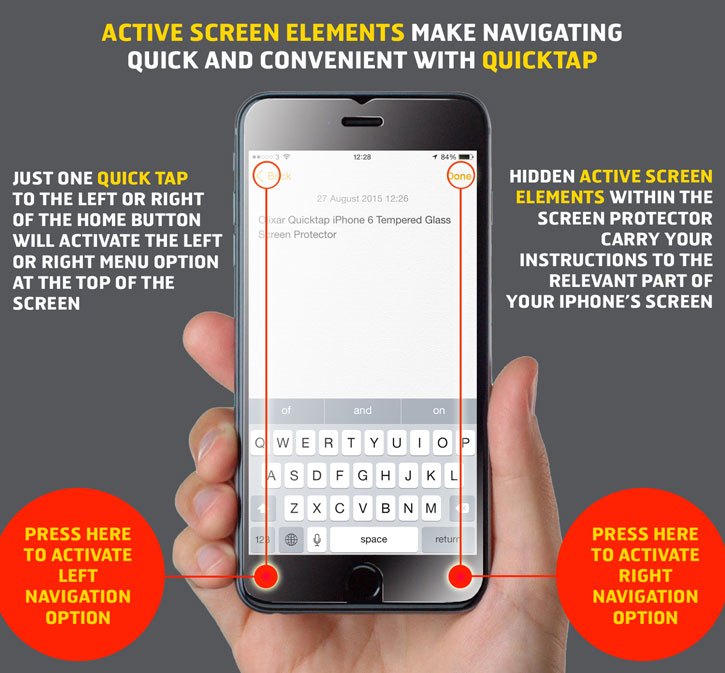 High-tension tempered glass construction for enhanced shock protection
The Olixar screen protector is made from a reinforced tempered glass that maintains perfect image clarity while protecting your phone's screen from scratches and external shock.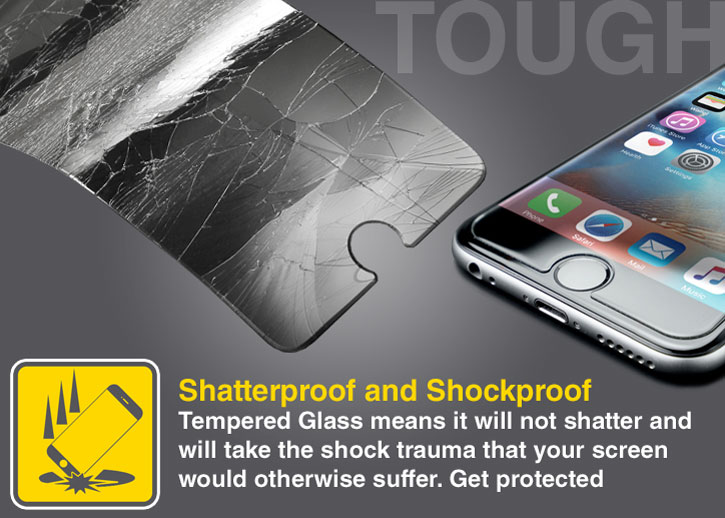 0.33mm thickness adds minimal bulk to your phone
Despite offering great screen protection for your iPhone 6, the glass is only 0.33mm thick. This means it only adds an almost imperceptible amount of extra thickness to your phone, so you can be sure it is safe from harm while looking as good as new.
Easy installation with no risk of bubbles
As this is a high quality glass screen protector and not a film, it does not bubble at all on application.
Made for iPhone 6
Designed specifically for the iPhone 6, the Olixar Quicktap tempered glass screen protector offers a protective fit for your device.
Tips for use:
To use the Olixar Quicktap hold your phone as you would normally, placing your supporting fingers behind the phone to stabilise your device when pressing.
If in the unlikely event that you need to press in either of the top corners, please do so firmly and you may also need to press just slightly underneath the virtual button you wish to activate.
Due to the Olixar Quicktap Tempered Glass Screen Protector featuring a more efficient way to interact with your phone, it may take some time to get used to the new button positions. It will ultimately of course make your smartphone experience more rewarding when you get the hang of it.