Belkin PowerHouse Universal Micro USB Sync & Charge Dock XL
Produktets artikkelnummer: F8M769bt
Produktnummer: 54188
The Belkin PowerHouse Dock XL is completely universal with all Micro USB devices, including tablets and smartphones. Slim, lightweight and stylish, the Belkin PowerHouse is discrete enough to take anywhere and fit in with any surrounding.
"I am very satisfied wi̇th this product"
"Great Charger/Dock"
Most useful customer reviews
RİCHARD DE CRAMER
İZMİR
SONY XPERİA X
14 Mars 2017
I am very satisfied wi̇th this product
I am very satisfied wi̇th this product. It holds the phone very stable, you can adjust the height of the micro usb, in all a very solid product. I would recommend it to anyone looking for alternative charging dock. The price, quality is good also. No need to pay more for an original dock. I have being using different products from belkin over the years and never been disappointing.
19 April 2016
Great Charger/Dock
I purchased this for my elderly mother as she needed a permanent charger for her Samsung tablet (she uses it solely for Skyping my brother in USA). I was worried that it wouldn't be weighty enough and that could knock the tablet over, but was proved wrong. It is stable & sturdy, & although small is just the job. The 6ft lead is great, as so many only have short leads! I would recommend this item to anyone. If you do a lot of typing it is easier to have the tablet flat, but for Skype/facetime etc it is ideal.
6 Anmeldelser
|
Skriv en anmeldelse
---
Mer informasjon
Sync and charge your Micro USB device
The Belkin PowerHouse dock supports simultaneous syncing and charging of your device via a Micro USB connector, so you can easily transfer files from your computer to your phone or tablet (and vice versa) whilst your device is being charged at the same time. Simply connect the dock to a PC or laptop to begin charging and data synchronisation. Or even connect to a USB mains adapter for super fast charging in the most convenient way possible.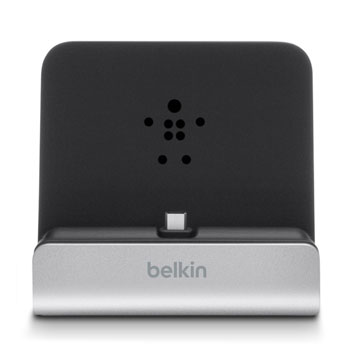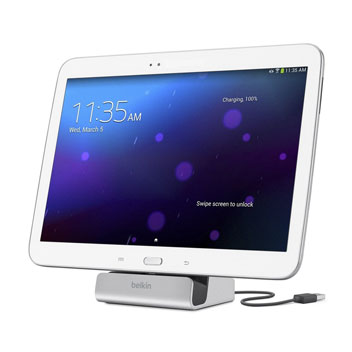 Stylish painted aluminium finish
The Belkin PowerHouse Dock is small enough to fit on even the messiest desk. It features an extremely elegant painted aluminium finish, while the sleek grey interior completes the look perfectly. Making this dock the perfect accessory for any device or environment.
Case compatible support
Featuring a large clearance space, the PowerHouse from so that you can place your phone in the dock with or without a slim case attached and it'll still provide your device with a snug fit. This means that you won't have to sacrifice protection over function when using the dock.
Convenient and clutter free
The sleek, slim and lightweight design makes this dock from Belkin looks great in any environment, be it at work or on your bedside table at home. It conveniently allows you to position your Micro USB device for handsfree viewing while it charges, positioning your phone or tablet at the perfect viewing angle. The 6-foot hardwired cable gives you the freedom and flexibility to connect directly to your computer or wall charger, without the need to compromise on the position of the dock itself.