Most useful customer reviews
David Plunkett
Glasgow
a-JAYS Five for iOS - White
11 Januar 2016
Jays earphones
Just what I needed as my original headphones ceast working, so these are a good replacement and value for the money.
4 Anmeldelser
|
Skriv en anmeldelse
---
Mer informasjon
According to the manufacturers themselves: "We designed and developed the a-JAYS Five for iOS to be the best solution for your iPhone we could think of. With our custom driver, durable aluminum and thermoplastic materials with a full-feature three-button remote and advanced MEMS technology for best-in-class speech performance, we're proud to say: this is our best "made for iPod, iPhone and iPad" model so far."
Features MEMS technology
a-JAYS Five for iOS houses the latest top-of-the-line, 360 degree, high-performance, low power, top-port silicon microphone for perfect speech quality. Using a high performance MEMS technology, the microphone consists of an acoustic sensor, a low noise input buffer, and an output amplifier. The built-in echo cancellation makes the audio perfect in nearly all situations. It reduces surrounding noise and, best of all, unlike many other microphones, this one won't degrade during time as it recharges the mic-magnets each time you connect your earphones to your iPhone.
Flat, tangle free cable
With the a-Jays series you needn't worry about knotted cables. The wide flat headphone cable is specially designed to resist tangling, so you can store them however you want and pull them straight out, ready for use when you need them.
In-line iPhone remote and mic
Now with the a-Jays Five earphones you don't have to choose between high-quality sound and hands-free convenience. Utilising the same technology Apple use in their headsets, the a-Jays Five earphones let you control your music, change the volume, answer and make calls all while enjoying crystal clear sounds with excellent bass response.
Full Feature Remote
The remote on the a-JAYS Five for iOS is completely redesigned from our previous a-JAYS Four and is 20% thinner. We also made the buttons slightly larger and covered them in the same soft thermoplastic material as the earphones to make them even more comfortable to use. And of course, you never need to look for any button as it comes with JAYS SMART-feel convex/concave buttons for perfect grip and feel.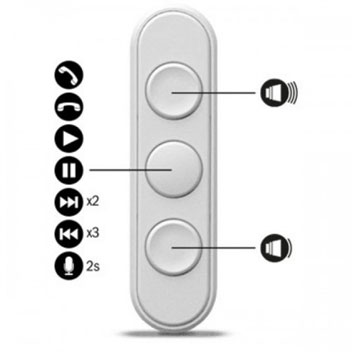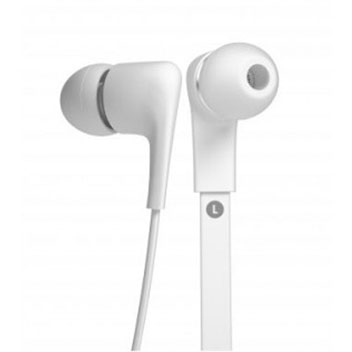 Includes replacement buds for the perfect fit
Another product innovation from Jays is the inclusion of 5 pairs of silicone sleeves designed to give you the the best possible earphone fit. Not only will this provide maximum comfort, but also the ultimate in sound quality.
Specifications:
Remote: Full feature iOS remote
Driver: JAYS custom A5
Isolation: -40 dB @ 2 kHz
Sensitivity: 96 dB SPL @ 1 kHz
Impedance: 16 Ohm
Freq. resp.: 18 - 23 000 Hz
Microphone: MEMS Technology
Cable length: 115 cm (45 in)
Plug: 3.5 mm L-shaped (1/8 in)