Most useful customer reviews
Janice Hoare
Wakefield
Olixar 2-in-1 Micro USB and lightning Key
28 Mars 2017
Compact and Cool
Excellent little device, very useful to carry when away from home. I can take just 1 plug with a USB slot and can charge phone and tablet at same time. seems pretty robust as well.
David Pepper
Devon
Olixar 2-in-1 micro USB and lightning cable for keyring
16 Mars 2017
I hope I never need it
I don't often buy anything I hope I won't need, but at the price, this one is worth it. I've always got the cable I need, but one day I just might not - and then I'll discover how clever I was to attach this to me car keys.
Roy Salfarlie
London
iPhone 7+
17 November 2016
Valuable
This 2-in-1 cable key is the most convenient way to carry your charger/syncing cable for you mobile device on your keyring. Lightning cable even fits my iPhone with its case on, which I can't say for other cables I have purchased
37 Anmeldelser
|
Skriv en anmeldelse
---
Mer informasjon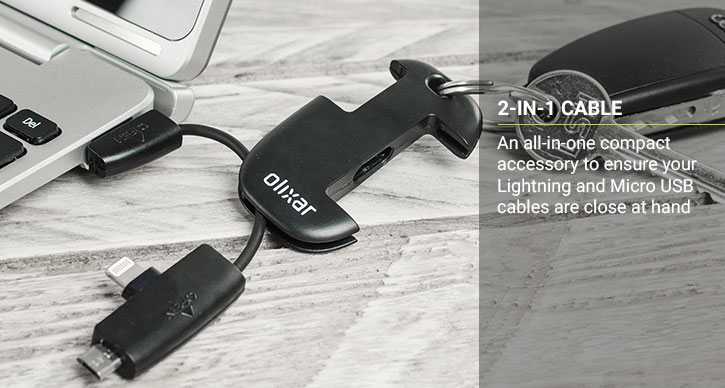 2-in-1 Lightning and Micro USB to USB data cable without the bulk
Never be without a Charge & Sync cable again with this integrated Olixar Lightning and Micro USB to USB cable in one beautifully portable accessory that attaches to your key chain. Who doesn't need a charging or sync cable close at hand in these modern times?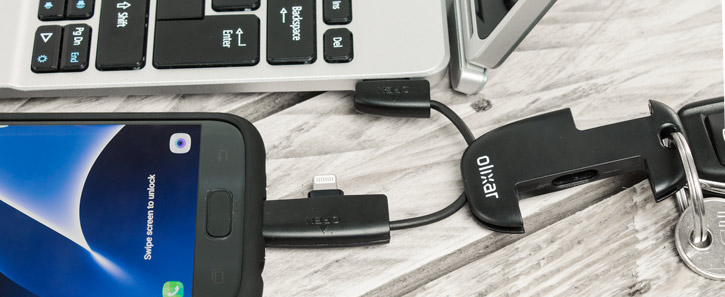 Compact and portable key chain design
Lightning and Micro USB to USB data cables are often unnecessarily long and can easily become tangled. Not so with this cable, which is instead a wonderfully compact and portable accessory you can attach to your existing key chain, with no messy wires and a robust compact folding design. Your connectors just clip into the housing that's no bigger than a key fob.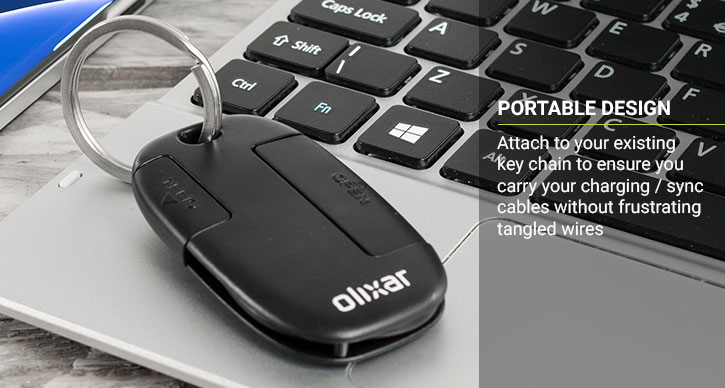 Carrying the cable is an absolute breeze - easily fitting into your pocket or bag. Simply attach the cable to your existing set of keys and you'll always be sure to have a charge & sync cable with you for when you need it most to recharge or transfer data. And if you change your phone at some point, or if you and your partner, colleagues or friends have different phones, then you have everything covered as this cable suits pretty much any smart device on the market today.
Charge your Micro USB or Lightning device
With this awesome and invaluable cable, you can simply attach it to a desktop computer, laptop or mains USB adapter to charge your device. No fuss, no bulk - just a convenient slim item on your key chain that is always within reach, perfect for when you are out and about.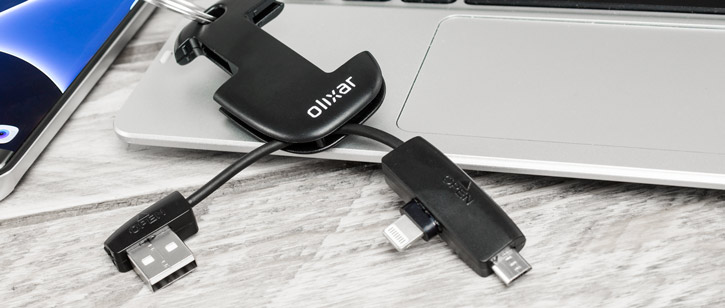 Sync your music and files
Discreet and easy to use, the Olixar 2-in-1 Cable Key makes syncing your music and files easy. Just connect it to your desktop computer or laptop and transfer all of your favourite tunes or important files quickly and conveniently to and from your Lightning or Micro USB devices.