Rugged Case Compatible Galaxy S6 Edge Charging Dock - Black
Produktets artikkelnummer: LC-UMB-SS6E
Produktnummer: 52798
Charge and synchronise your Samsung Galaxy S6 Edge with its rugged case still attached, thanks to the Cover-Mate Case Compatible Galaxy S6 Edge Charging Dock in black.
"This product is excellent"
Artikkel Varianter:
Most useful customer reviews
Shaun W. Sadler
South Sheilds
13 November 2015
This product is excellent
This product is excellent and prevents your phone flying off the desk when you have wires all over the place.
5 Anmeldelser
|
Skriv en anmeldelse
---
Mer informasjon
Case compatible with rugged cases
The Cover-Mate Case Compatible Desktop Charging Dock for the Samsung Galaxy S6 Edge has a removable insert that widens the dock making it compatible with an S6 Edge in a tough rugged case. With more and more tough cases hitting the market and phones costing more and more it is vital to keep your phone safe from damage. This dock allows you to keep your phone in its rugged case, saving you the hassle of having to remove it and put it back on every time you wanted to dock your S6 Edge.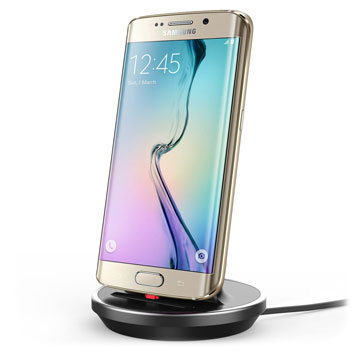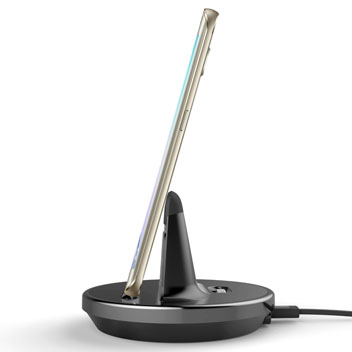 Small and stylish
Unlike other desktop charging solutions, this cradle is small enough to fit on even the most crowded desk. It is also sleek black to match the casing of your phone, so it won't stand out when you don't want it to.
Flexible connector
The Cover-Mate Case Compatible Charging Dock allows you to use a wide range of tough cases with this dock. The flexible connector gives you the freedom to dock your S6 Edge no matter how awkward the port angle is.
Synchronise and charge simultaneously
The cradle utilises pass-through technology to hold the phone in a near-vertical position while connecting to your PC through a port in the back, allowing you to charge the phone and synchronise any data without having to change cables.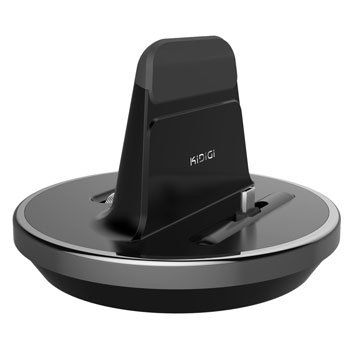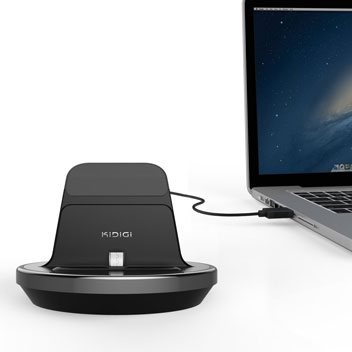 Stylish black finish
Designed to complement the sleek aesthetic styling of the Samsung Galaxy S6 Edge handset, this desktop cradle is the perfect combination of form and function. Boasting a minimalist design and a stylish piano black detailing, you can be sure that your Galaxy S6 Edge will look smart and sophisticated when docked.
Technical Specifications:
Net Weight : 120g
Dimensions : 68.5 x 100 x 17 mm