Mer informasjon
4.5A high power, fast charge output for your tablet and smartphone
The Avantree PowerHouse Desk USB Charging Station features fast charge technology, with a 4.5A high charging current output making it ideal for charging tablets and smartphones.
The Fast Charge Universal Charging Station has a built-in protection circuit that prevents your devices from excessive charging, keeping them safe and fully charged.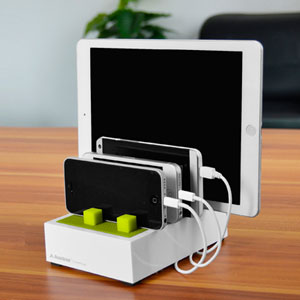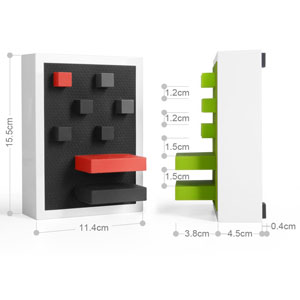 Charge 4 devices simultaneously with just one mains socket
With 4 USB charging ports, the PowerHouse can charge 4 devices simultaneously. USB1 and USB2 ports share a 2.1A output, while USB3 and the Smart USB Port share 2.4A. All of this is powered by one mains power socket in your home or office.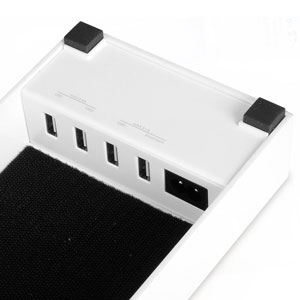 Smart compatibility, auto adapts to all iOS and Android devices
The Smart Port has built-in technology that allows for wider device compatibility. It auto adapts to charge your iPad, iPhone, Samsung Tab and all iOS and Android devices.
Desk stand - allows you to stand your phone while it charges
Not only does the PowerHouse keep all of your devices fully charged, it also looks good doing so. The base unit has integrated stands that hold your tablets and smartphones while they're charging.
The PowerHouse is also user configurable, it comes with a green silicon cover so your can configure the look of it.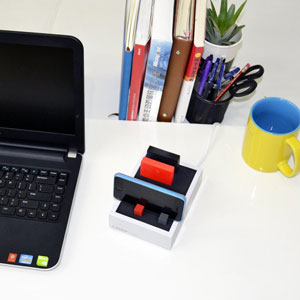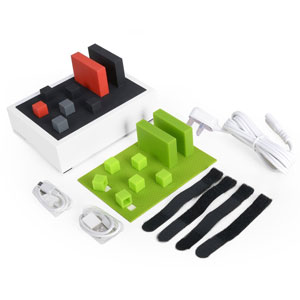 Neat and tidy - avoid tangling cables
If you or your family have multiple electronic devices, you've probably got a mess of tangled wires you have to pick your way through every time you want to charge your phone or tablet. With the Avantree PowerHouse Desk USB Charging Station you can forget about the mess that owning multiple cables causes.
The PowerHouse lets you charge multiple devices at once from one station, so you can keep all the cables organised. With the included hook and loop fastener strips, your can manage your cables and keep them hidden underneath the PowerHouse, so you'll always have a tidy desk or table top.
Technical Specifications:
Input: AC 100-240V, 50/60Hz, 0.6A max
Output: 5V, total 4.5A(Share 4.5A when all the ports in use)
Amount of USB socket:4 port - USB1, USB2, USB3 and a Smartport
Single USB max output 2.4Amp
Smartport: built-in a smart IC, has wider compatibility
Product size: 15.5 x 11.4 x 8.7cm
Product weight: around 305g
Certification: CE, FCC and RoHs