Most useful customer reviews
Bill Davies
Torquay
DiCAPac Action Universal Waterproof Case for Smartphones
12 Mai 2017
Completely effective 1st time out
Suffered an unexpected capsize in a kayak at sea, 1st time out with my Samsung Note 3 in this case. Happily, although submerged at least half a metre for about half an hour, not a drop of water got in and the phone remained fully usable throughout. My previously trusted water proof VHF radio did not fare so well, leaked and became unusable within 5 minutes. Just shows that having the right back up kit could make the difference between life & death!
Andy Stobbie
Stockport
LG G4
17 Mars 2016
Great waterproof and snow proof case
Easy to fit phone in case, with my LG G4 have to take it out of its protective (Mobile Fun) cover as its a snug fit, but slides in easily. Snap the seal closed, roll the Velcro down and you are away. Used it when snowmobiling great protection and touchscreen works through the plastic. Like the neck strap that has 2 lengths depending if it's single or double. Clips to the DiCAPac waterproof selfie stick for complete waterproof unit- note it has to be this model of case as the blue and green versions don't have the right fitting on the back.
Malcolm
Manchester
Note 3
26 Juni 2015
Perfect rowing case
Bought this so I could use my Note 3 as a boat coach when rowing. It fits the Note 3 perfectly even with a case still on the phone. As I haven't rolled in I cannot say how good this case will be when under the boat, but it copes very well with the spray from the bungies when training, and is nice and clear. The only tiny distraction, is that the sip lock can be a bit tricky to undo, however that also means it provides a nice tight seal :)
18 Anmeldelser
|
Skriv en anmeldelse
---
Mer informasjon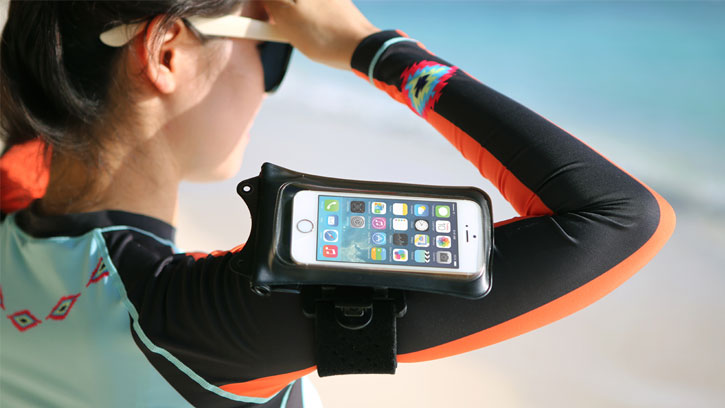 100% Waterproof Floating case for up to 5.7 inch smartphones
When swimming, surfing, kayaking, fishing, snorkelling, skiing and various other outdoor activities - you want to share this supremely adventurous moment by taking a photo or capturing a video. Wearing the DiCAPac for your smartphone, you can do just that while protecting your device yet still operating its key functions. Visibility is no problem, with a super-clear window providing crystal clarity to your phone's screen.
Made of non-toxic materials, the DiCAPac 100% Universal Waterproof Smartphone Case allows you to take your smartphone with you in otherwise inhospitable environments while still providing touchscreen control.
It floats!
If you happen to lose hold of your case in the water? No problem, this case floats! Thanks to the airbag section of this case, the case is buoyant - and so will you be if you see this in action or need it to keep your valuable smartphone from the depths.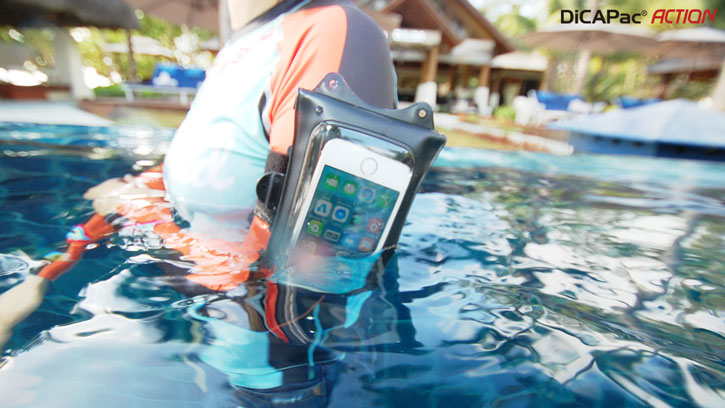 Action Clip to attach the case to a belt, bag or clothing
The case features a spring loaded action clip that will attach the case to whatever suits you. Such as belts, a bag, clothing or shoulder straps.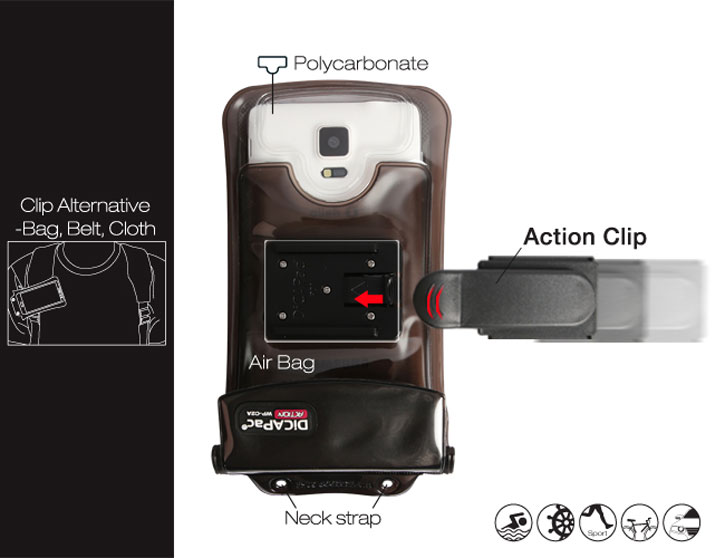 Highest grade JIS IPX8 waterproof rating
All DiCAPac products have passed Japan's rigorous JIS IPX8 test and are all waterproof certified at the highest possible grade (grade 8).
Tested and passed up to 33ft an underwater lab test and actual real-life conditions. This means you can be assured your smartphone can be taken within the DiCAPac case up to 33ft (10 metres) underwater for long periods of time and capture those precious moments.
Not just protection against water
Not only does the DiCAPac 100% Universal Waterproof Smartphone Case protect your device from water damage, but it also offers protection from dust, sand and even snow. Take your smartphone on the beach, outside in the rain or on a cold snowy day - all with assurance that your device is protected from the elements.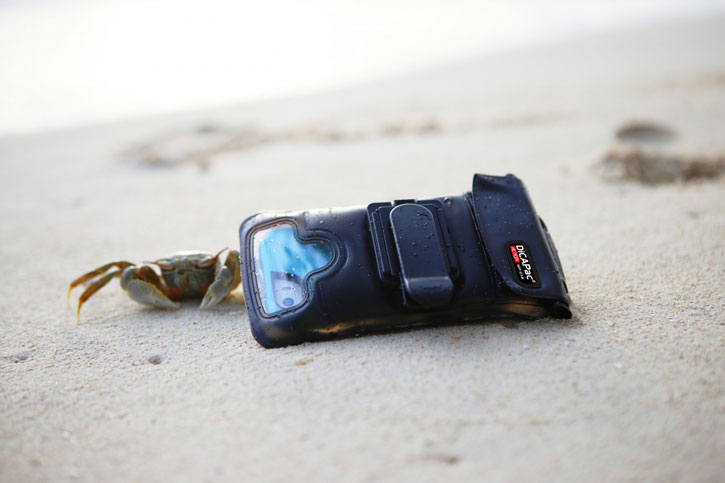 Clear photos and clear view of your smartphone display
Designed to allow full functionality of your smartphone and includes a high-clarity surface that is manufactured to offer unbeatable protection for your smartphone screen without impairing the screen brightness or clarity.
Not only that, but your photos and videos will remain sharp and clear as it captures through a specially designed super-clear polycarbonate portion of this case.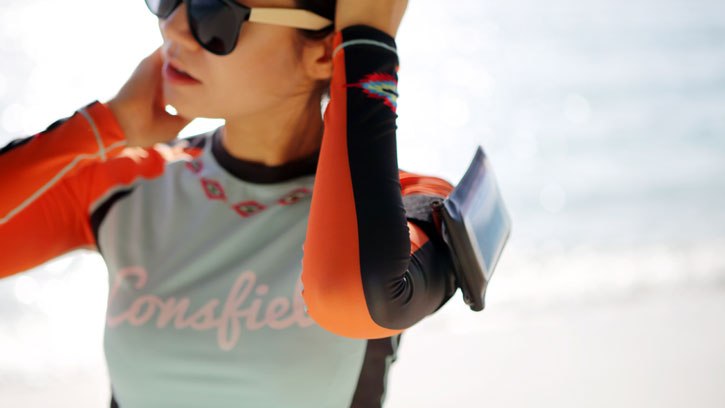 Supports use of your touchscreen while in the case
As well as providing protection and visibility of your device, the DiCAPac supports full use of your touchscreen while in the case. This is ideal for texting, web browsing, checking e-mails and capturing photos & video - all while your phone is fully protected from water and other elements.
For safety, the strap will breakaway under certain levels of stress to avoid any potential tangles that could cause an injury.
Please note: Arm band is shown for demonstration purposes and is not included as part of this product.
Please note: if using the Universal Waterproof Case with iPhone 7 / 7 Plus, Assistive Touch will need to be enabled as the physical Home button will not respond. To do this, go to Settings > General > Accessibility, then scroll until you see the Assistive Touch option. This will add a virtual Home button to your screen so you can continue to use your iPhone 7 / 7 Plus.
Specifications: