Muvit Anti-Shock Tempered Glass Samsung Galaxy S6 Screen Protector
Produktets artikkelnummer: MUTPG0012
Produktnummer: 52257
With superb screen protection and rounded edges this ultra-thin anti-shock tempered glass protector from Muvit is the perfect choice for the Samsung Galaxy S6.
"Easy to fit and good price"
"Glass protective cover is clearly effective !"
"Great Screen Protector"
Most useful customer reviews
17 Oktober 2016
Easy to fit and good price
Easy to fit and good price, works really well
Rob Nicholson
North Shields
Samsung Galaxy6
19 September 2016
Glass protective cover is clearly effective !
Bought this glass protective screen with a little uncertainty as a number of people had bought similar items with unsatisfactory results. Very pleased with this item. Delivered quickly with easy to follow instructions. Excellent fit on my phone. Thanks Mobilefun !
Roma Kieswetter
South yorkshire
Samsung Galaxy S6
1 September 2016
Great Screen Protector
Despite some negative reviews, this is a fantastic screen protector. True it does not cover the whole of the glass front (which is curved at the edges) but it does cover all the LCD area. I found it easy to apply with no bubbles (the hard part was getting rid of all dust motes, eventually I did it outside). Viewing the screen under various lighting conditions with the protector fitted is just about as good as with the bare screen. It is a little pricey but I did not want to risk my expensive phone with the cheaper versions.
13 Anmeldelser
|
Skriv en anmeldelse
---
Mer informasjon
Protects the screen of your Samsung Galaxy S6
When inside a pocket or bag, your Samsung Galaxy S6 could easily pick up scratches on its most important feature - the screen. However, the Anti-Shock Tempered Glass screen protector will help to protect your screen from picking up these scratches. With its 9H glass hardness rating it will even protect against scratches from keys and coins; a common pocket combination.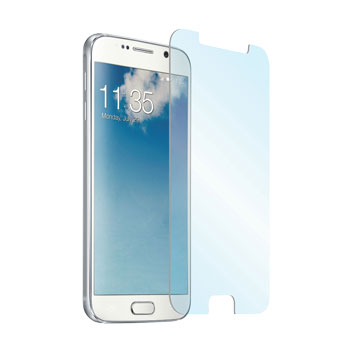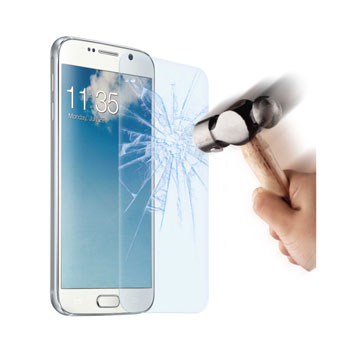 0.33 mm thickness adds minimal bulk to your S6
Despite being the ultimate in screen protection for your Galaxy S6, the Muvit Tempered Glass Screen Protector is only 0.33 mm thick. This means it only adds an almost imperceptible amount of extra thickness to your phone, so you can be sure it is safe from harm while looking as good as new.
Rounded edge
The rounded edge editions have been specially cut to give a smooth-to-touch edge. Not only will look and feel great, but it lessens the chance of the sides cracking if dropped for excellent protection.
No loss of multi-touch display response
A number of screen protectors can harm the responsiveness of your screen. However, the Muvit Galaxy S6 Anti-Shock Tempered Glass Screen Protector will not affect your screen's responsiveness in any way, allowing you to have the same ease of use as before you put the screen protector on.
Easy to apply and remove
Some screen protectors can be fiddly to apply, but not with this protector. You will be able to apply your Muvit Anti-Shock Tempered Glass Screen Protector without any dirt becoming trapped or without any air bubbles surfacing.