Spigen Ultra Hybrid Samsung Galaxy S6 Deksel - Klar
Produktets artikkelnummer: SGP11317
Produktnummer: 51639
Beskytt baksiden og sidene på din Samsung Galaxy S6 uten at påvirke designens dynamikk med dekslet Ultra Hybrid fra Spigen.
"Excellent case"
"Very nice simple phone case"
"Very well made fit the phone perfet"
Most useful customer reviews
Richard Beck
Kent
Samsung galaxy s6
7 April 2017
Excellent case
Excellent case and fits the phone perfectly, and really shows off its lines. I accidentally threw away the backing sticker that comes with it to stop the case sticking to the phone, but I emailed Spigin and they sent me a new one free of charge, awesome service by them. Very impressed. Wouldn't hesitate in buying another of their cases.
Delia Lam
Manchester
Galaxy S6
25 November 2016
Very nice simple phone case
Can't think of any negatives about this case. Very good transparent case.
Yew Thai Moores
Peterborough
14 Oktober 2016
Very well made fit the phone perfet
Very well made fit the phone perfet my doughther love it i will get another case for my son in few month when he dude to up grade his phone!
24 Anmeldelser
|
Skriv en anmeldelse
---
Mer informasjon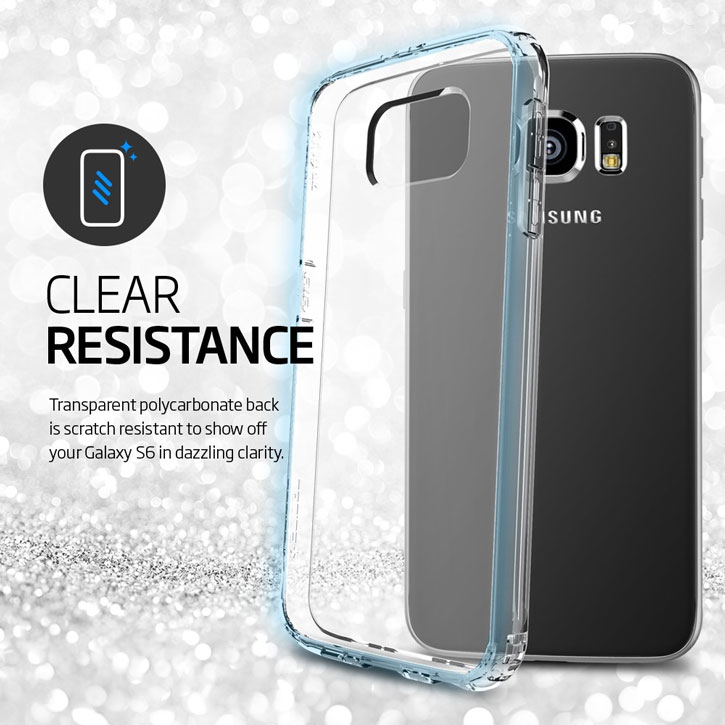 Transparent bakside som beholder telefonens opprinnelige utseende


En transparent bakside av TPU med en tynn design beholder Samsung Galaxy S6 opprinnelige utseende samtidig som det sikrer at telefonen din er beskyttet.
Dobbelt beskyttelse


Dekslet Ultra Hybrid fra Spigen kombinerer en TPU-bumper med en bakside av polykarbonat som lager et ekstremt dobbelt beskyttelse. Dekslet fungerer som en bumper ved å dekke sidene av enheten samtidig som den transparente baksiden gir et enastående beskyttelse til din Galaxy S6.

Nytt avansert ripesikker belegning


Med Spigens nye ripesikkre belegning forsikrer dekslet Ultra Hybrid at både din Samsung Galaxy S6 og dekslet forblir frie fra riper.

Absorberer støter for et utmerket beskyttelse


Dekslet Spigen Ultra Hybrid er et hardt deksel som er tilvirket av TPU-materiale. De holdbare, lette og ikke-giftige egenskapene gjør dekslet Ultra Hybrid til en pålitelig løsning for å beskytte din Galaxy S6 fra ytre påvirkninger.

Mykt og bekvemt grep


Fleksibelt, elatisk og slitesterk TPU-materialet gir et mykt og bekvemt grep.

Holder telefonen tynn og lett


Takk vare Ultra Hybrids design kommer din Samsung Galaxy S6 ikke å få uønsket bulk hvilket bidrar til å beholde din Galaxy S6 så tynn og lett som mulig.


Tilgang til porter og funksjoner


Dekslet optimerer funksjonaliteten til alle porter og funksjoner til Samsung Galaxy S6. Dekslet Ultra Hybrid har åpne seksjoner til ladingporten, kameraet, knapper og porten til headsetet for et enkelt bruk.