Most useful customer reviews
16 August 2016
Great product
My daughter loves it, easy for her to hold would recommend!
Clare Calkin
Unknown
iPad Mini
27 Juni 2016
Happy customer
This case is really well made, easy to handle for little hands.It offers full support when iPad placed inside.Is better quality than I thought it would be. My daughter loves it especially the colour. I think it offers great protection of iPad, can be taken anywhere. I would have no problem in recommending to anyone considering this product. So glad I did, plus from ordering to arrival great service.A very happy customer.
Andrew
Bath
I pad mini case
4 Januar 2016
Daughters I pad protector/case
Product is as described and arrived promptly. I would buy from this vendor again. The case is great for the purpose we wanted to protect our 3yr old daughters I pad.
23 Anmeldelser
|
Skriv en anmeldelse
---
Mer informasjon
A perfect case for the whole family
Olixar brings you the greatest accessory for your iPad Mini 3 / 2 / 1 and the perfect way to protect your tablet when used by your whole family. The Big Softy Child-Friendly Silicone Case features a soft gentle feel, perfect for those with little hands, yet features a rubberised texture to give fantastic grip as well as cushioned corners to protect against drops and scrapes.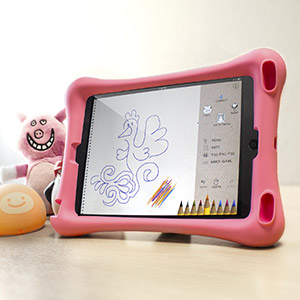 Perfect for children
This fantastic case from Olixar is perfect way to protect your iPad Mini 3 when being used by excitable children. The Olixar Child-Friendly Anti-Shock Silicone Stand Case has a huggable soft body with shock-proof corners to create a drop resistant case and a far easier case for young children to hold and interact with.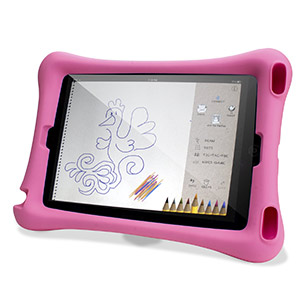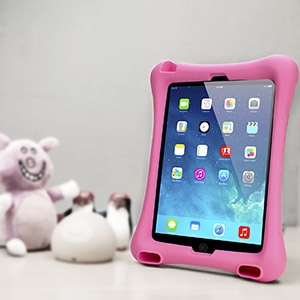 Built-in multi-angle viewing stand
Located at the back of the Olixar Big Softy Child-Friendly Silicone Case is a folding multi-angle viewing stand. This handy stand folds out to provide the perfect viewing angle for watching films and TV shows as well as typing and playing games. When not in use the stand folds completely flat so as not intrude on the use of the case.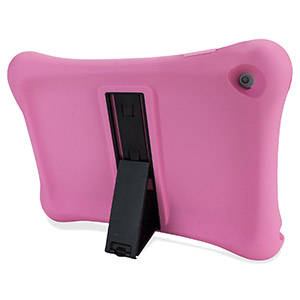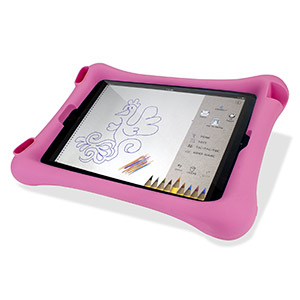 Sound-enhancing apertures bring the noise
Situated next to your tablet's speakers are specially designed sound-enhancing apertures which naturally channel the acoustics to generate more volume. Sound is concentrated and amplified through the apertures to direct audio straight to the user.
Created and designed for the iPad Mini 3 / 2 / 1
Olixar have created the Big Softy Case specifically for the iPad Mini range, this insures that the fit is perfect and that the design compliments the sleek aesthetics of the iPad's original design. This case also features detailed cut-outs for the iPad's camera, charging port and speakers, enabling you to make full use of your Mini 3 even when it's protected within the case.