Most useful customer reviews
4 Mai 2017
Best Stand
Absolutely fit for purpose. Very sturdy and can be used either in portrait or landscape position. Also, charging leads can be plugged in in both positions. I fairly recently wasted money on another, supposedly, handy stand, which was rubbish, kept collapsing and didn't allow for charging leads... I wish I'd seen this one first.
Rhytidiadelphus
Manchester
iPhone 7
21 Januar 2017
Excellant Stand
Excellant Stand for my iPhone the finish is very good, recommend it for anyone. Delivery was also excellant Thank you Mobile Fun
Nazim
Birmingham
Samsung S5
28 August 2015
An excellent and very stylish product!
I ordered this product because I needed a desk stand for my iPhone that would not look out of place next to my iMac. Well, it turns out it is perfect for more reasons than pure aesthetics! The construction is very solid and well thought out. Non-slip rubber feet in the bottom provide added stability. The stand's matte finish is both pleasing to the eye and practical (it is less slippery and a bare iPhone is less likely to get scratched). In the back, a couple of iMac-like speaker holes provide a means for cable management. The space between the two support arms is exactly the size of the Apple 30-pin connector so while the iPhone is charging, it is even more stable. Not having to remove the iPhone bumper or case every time I charge my iPhone is a relief. In fact, the depth of the support arms is approximately 15mm offering ample room for most normal size cases. Only very thick cases may not be accommodated. The stand's only disadvantage is probably the fact that it is not adjustable although that limitation makes the design simple and elegant. In any case, the angle of view is very comfortable both for desk as well as nightstand use. An excellent and very stylish product!
48 Anmeldelser
|
Skriv en anmeldelse
---
Mer informasjon
Universal design supports any smartphone
The Elago M2 Aluminium Style Smartphone Desk Stand is completely gadget-friendly, which means that it doesn't matter which smartphone you have. Devices can be placed comfortably in either a horizontal or vertical position on the stand, to ensure a firm and stable mount. The Elago M2 Smartphone Desk Stand sits discreetly to provide a dedicated home for your mobile device and looks great at your desk or on your bedside table.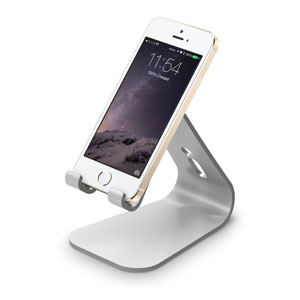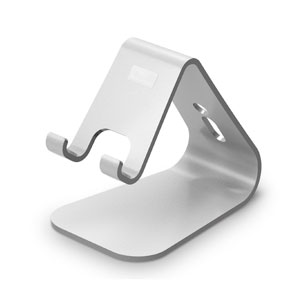 Small, lightweight and incredibly stylish
This small, lightweight and stylish aluminium stand from Elago is perfect for holding smartphones in place, allowing you to get on with whatever you're doing while your phone remains visible at all times. The lightweight aluminium-style body looks fantastic in any surrounding it finds itself in, perfect for use at home, in the kitchen or at work. Lightweight but incredibly sturdy, the Elago M2 provides the perfect place to rest your smartphone.
Brilliant for watching media
The M2 stand is perfect for watching movies, reading eBooks, following recipes, surfing the web, conducting presentations, viewing photos or anything else you can think of. It's a highly professional grade product that is affordable and great value for money.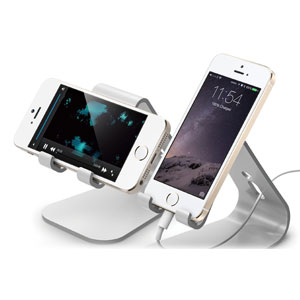 Supports landscape and portrait orientations
The simplistic design of the Elago M2 allows you to position your device in either a vertical or horizontal position for viewing movies, reading texts or playing games.
Cable management system
The cable management system built into the back of the Elago M2 allows you to neatly manage your cables when charging your device or transferring data between your phone and computer, making this the ideal stand for your desk.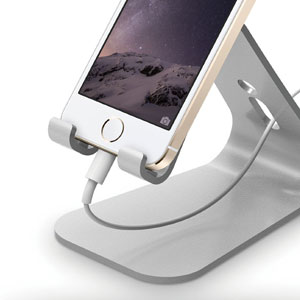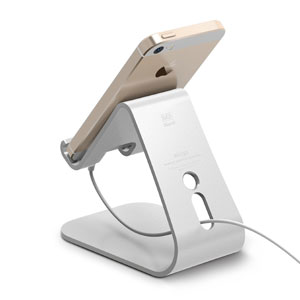 Case compatible
You don't need to remove your smartphone from its case to use this fantastically useful stand. It will work just as well in its case, saving valuable time without you having to compromise on protection.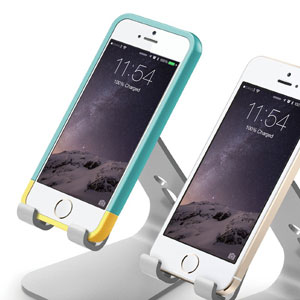 Please Note: The majority of cases will work with the Elago M2, however large, heavy-duty cases may struggle to fit.