Spigen Tough Armor iPhone 6S / 6 Deksel - Sort
Produktets artikkelnummer: SGP11614
Produktnummer: 48147
The Spigen Tough Armor Deksel er det absolutte beskyttelsesdeksel for iPhone 6S / 6, med et utprøvd, solid design som gir super støtdemping med Spigens luftputeteknologi.
"iPhone 6 phone case"
"I would recommend this case to anyone"
"Great looking case"
Most useful customer reviews
Gerald O Neill
N Ireland
iPhone 6
14 Juli 2016
iPhone 6 phone case
This is the first time I have used Mobile Fun and found the service excellent. The phone cover arrived as promised two days after order. The style and features were exactly as described and I was happy with all the functions. The quality for the price was better than any product on the high street. I will definitely be using your site in the future and recommend you to my friends.
Barry Hewland
Brighton
I Phone 6
16 April 2016
I would recommend this case to anyone
I recently bought this case and it does what it says on the tin. I tripped over a bollard whilst taking a photo and the phone was launched 6 to 7 feet in the air and landed on a cobbled pavement. Fortunately there was no damage to the phone or the case. I would recommend this case to anyone.
8 Januar 2016
Great looking case
Great looking case not to bully but defiantly works I dropped my phone a couple of times and come away intact
81 Anmeldelser
|
Skriv en anmeldelse
---
Mer informasjon
Ekstrem Beskyttelse mot fall og riper
Tough Armor dekselet er to-lags TPU og polykarbon hardt deksel som gir den beste beskyttelsen i et formet design. Det nettmønstrede TPU dekselet gir økt støtabsorbering på toppen, bunnen og hjørnene for å gi ekstrem beskyttelse til din telefon mot fall og riper.

Avansert Støtabsorberingsteknologi
Spigen Tough Armor dekselet tilbyr det nyeste innen støtabsorbering og Luftputeteknologi på alle 4 hjørner for effektivt å beskytte din enhet mot fall.

Utstående kant beskytter skjermen
For å beskytte din skjerm har Spigen Tough Armor dekselet en utstående kant – dette reduserer sansyneligheten for riper og andre skader når du legger telefonen med skjermen ned på en flat overflate.

Tynn, men beskyttende
Spigen Tough Armor Dekselet er overraskende tynn når du tar dens beskyttelse i perspektiv. Din smarttelefon vil passe rett inn i dekselet, beskyttet og klar for action.

Sømløs Stil
Dekselet gir et naturlig og rent utseende, mens høyttaleråpningene er spesielt designet for å utnytte høyttalerne til det fulle, uten å redusere lydkvaliteten.

Få enkel tilgang til alle porter, controller & tilkoblinger
Dekselet tilbyr også trimmet for at portene og funksjonene på iPhone 6S / 6, inkludert ligntning tilkoblingen og kamera.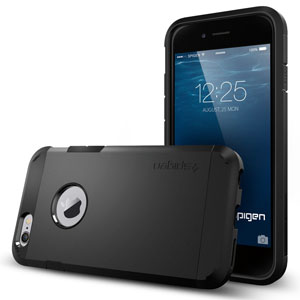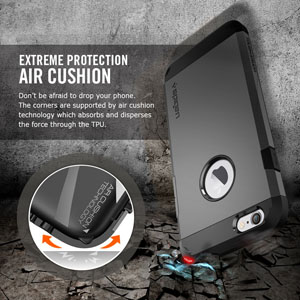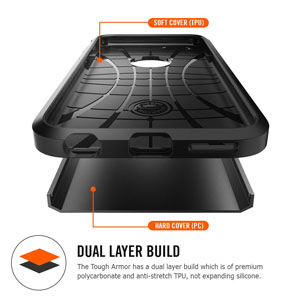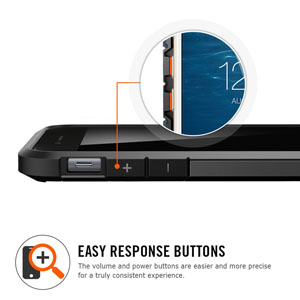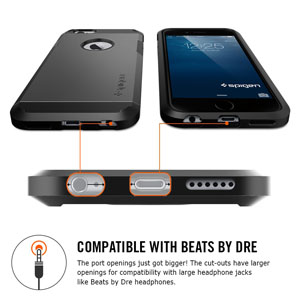 * Please note some images in the description may vary from the colour in the main image. These extra images are used to clearly show the products features.