Most useful customer reviews
Michael Harrington
Leeds
iPad Air
18 Juni 2017
Easy and quick to mount
Do you have kids? Do you have an iPad (other tablets are available)? Then you need The Olixar Universal Tablet Car Headrest Mount Pro! Easy and quick to mount, transferable from car to car, suits multiple sized tablets. Also, from a safety point of view, could possibly act as an extra restraint system for anyone sat in the middle, though not officially recommended. I wouldn't buy another as I can only drive one car at a time, but I would recommend that you did!
Sarah
Preston
Olixar Univeesal Tablet Car Headrest Mount Pro
11 Juni 2017
Strong easy to fit - does the job
The mount was bought to hold iPad in car for playing kids films on long journeys. It's well made and easy to fit and does exactly what we wanted. Would recommend.
Kevin Dowle
Unknown
Amazon Fire Kids Edition
25 Januar 2016
Straight forward & easy to use.
Prior to purchasing always make sure of the diagonal width of your tablet both inches and millimetres. The spring loaded bracket is strong enough to hold most tablets and I even shook the holder to make sure it was secure. The hooks fit securely around the headrest bars and lock in place. The tables angle can be adjusted with a locking screw at the back of the bracket and can also be slid left to right and locked in place. Very secure item would highly recommend.
53 Anmeldelser
|
Skriv en anmeldelse
---
Mer informasjon
Rear seat tablet mount for passengers' entertainment
Entertain your children on long journeys by using the Olixar Universal Tablet Car Headrest Mount Pro, providing a secure mounting solution so anyone who is sat in the back of the car can enjoy the many wonders a tablet device can offer to pass the time.
Watch TV shows and movies, play games or enjoy educational apps. The Olixar Universal Tablet Car Headrest Mount Pro ensures a superb hands-free viewing location for your tablet, providing hours of entertainment for whoever is sat in the back of the vehicle.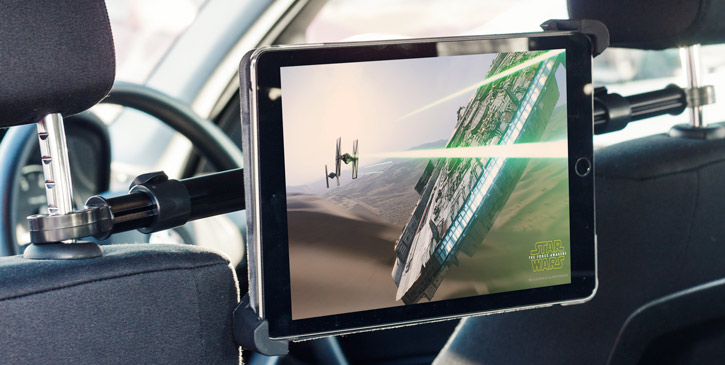 Universal tablet mount fitting
The Olixar Universal Tablet Car Headrest Mount Pro is compatible with a wide range of tablet devices, supporting tablets 190mm to 300mm in width - covering the full range of iPads and other popular tablet devices.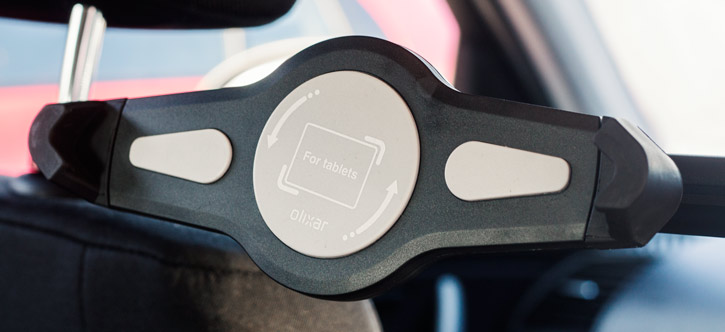 Easy installation
To install the Olixar Universal Tablet Mount in your car - position the two front seats so they are in alignment, extend the two arms across the two front headrests, attach with the hooks either end to the headrest's posts and finally lock the two levers for a secure fit.
It is also a simple procedure to place your tablet within the mount, with extendable arms that will grip your device tightly enough to secure it - protecting it with its soft rubber tips.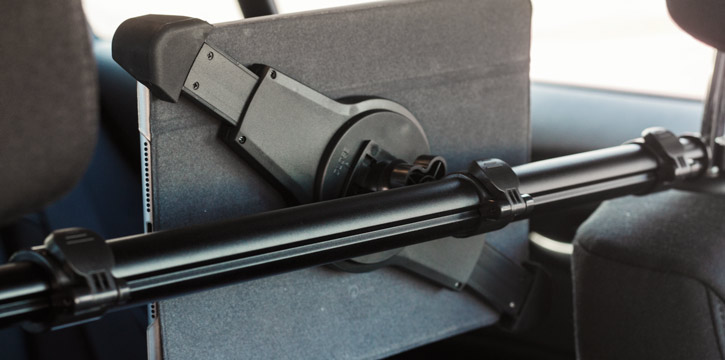 Note: Headrest posts must be between 500mm - 660mm apart.
Perfect positioning
The Olixar Universal Tablet Car Headrest Mount Pro can switch between landscape and portrait modes with ease. The Olixar Mount features an adjustable 360º ball joint, which allows you to angle and rotate your tablet in a comfortable position for those sat in the rear of your vehicle. This is perfect if you want to adjust your tablet for smaller children or if you need to angle the tablet for a single viewer. Not only that, but you can slide the tablet up and down the mount to position the tablet in either a central location or over to one side.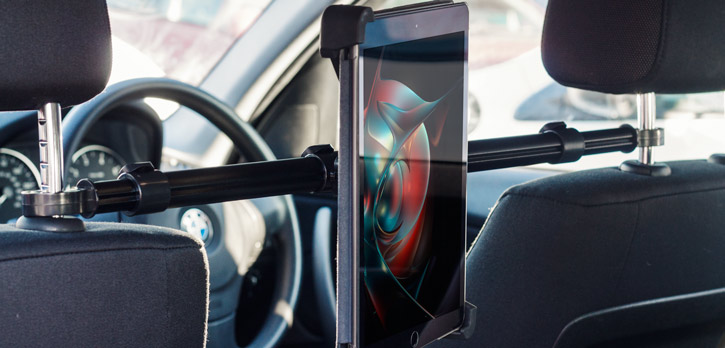 Compatible with or without tablet cases
Due to its impressive gripping mechanism, you can securely hold a tablet with or without a case on. This allows you to leave many different styles of case on, yet still operate your tablet device when within the mount.