Most useful customer reviews
ritchie
Perth , Scotland
Samsung Galaxy 6
16 Juni 2015
Superb piece of kit
Bought these for holidays especially on the plane. Sound cancelling and fit around my head and ears were well sealed. Good at lunch too I can finally get peace and quiet. Build quality is excellent and price is comparable to more expensive items, all this and option of NFC and cable should battery run out then can be used as normal headphones. Great service and delivery on time as expected by Mobile Fun in past, not often items arrive on or before delivery dates.
Pat Higgins
Ireland
Aventree Audition Bluetooth Stereo NFC Headphones
13 Juni 2015
Simply Brilliant
I bought one of these 5 months ago and I have found them excellent. They fit over ears and keep out surrounding noise. The sound quality is very good, they are light to wear and I have used them for hours on Planes and trains etc. The battery life is incredible. I have just bought 2 more units as presents for Family members who are also delighted with them. Great value for money as well. No messy cables and having the ability to move about is simply fabulous. 10 out of 10.
Geert Sonck
Aalst, Belgoum
Avantree audition stereo NFC bluetooth headphone
15 Mars 2015
Great value
Nice product.Paring is very easy to set up. Great sound quality. Distance on bluetooth is 10 to 12 meters blocked by several big walls, In open space 15 to 20 meters is common.I am using this at my working place and noise is blocked very well (without a noise cancelling system inside).This was one of my best buys. I am very happy about it. ( Excuse my bad english grammar, I am speaking dutch as my native language).
18 Anmeldelser
|
Skriv en anmeldelse
---
Mer informasjon
Wireless Bluetooth connectivity allows for greater freedom
The Avantree Audition Bluetooth Stereo NFC Headphones feature advanced Bluetooth 4.0 technology, to ensure improved connectivity and easy pairing of mobile devices. With these Avantree Bluetooth Headphones, you can enjoy your favourite tracks and receive calls on your mobile.
A stylish pair of black headphones with a soft-touch rubberised finish, lets you put them on and enjoy the freedom of movement, up to 10 metres as you listen to your music.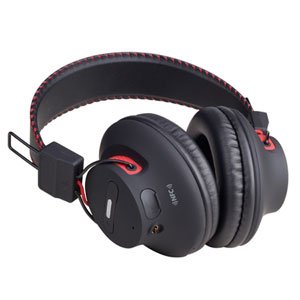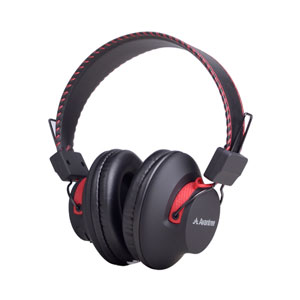 Easily pair with NFC supported mobile devices
The Avantree Audition Headphones come with Bluetooth and built-in NFC (Near Field Communication), allowing them to be used with a huge range of mobile devices.
The NFC feature allows you to simply touch your NFC compatible device to your phone and the headphones will instantly turn on, connect or disconnect, it really is as easy as touching them together. Music can be streamed from your mobile and will seamlessly fade to a ringing alert when there is an incoming call - so you won't miss a call and you can pick up again with your music playback exactly where you left off.
Built-in microphone and call management buttons support use for hands-free calling
Included in the design of the headphones is a built-in microphone and call management buttons, found on the ear cup of the headphones. These allow you to use the headphones to take calls from your phone hands-free.
Once paired with your phone, the headphones will mute the music and allow you to take the call seamlessly by pressing the answer button. Similarly, a 'call waiting' button is included to ignore incoming calls in favour of listening to streamed music.
Additionally, the headphones can be used as wireless headsets for use with PC VOIP communication platforms such as Skype.
On-ear controls for easy navigation and control of music
The Avantree Audition Bluetooth Stereo NFC Headphones have been designed to perfectly blend form and function. The design includes on-ear playback functions, which allow you to play/pause your favourite tracks as well as adjusting the volume for greater control of your music experience.
Cushioned ear cup design isolates music playback
The increased ear cup foam density of the Avantree headphones not only enhance user comfort, but the headphones' precise fitting also helps shut out external noise for extraordinary clarity and hard driving bass. The stylish headband is padded so that it provides a comfortable fit and can be easily adjusted to suit all head sizes.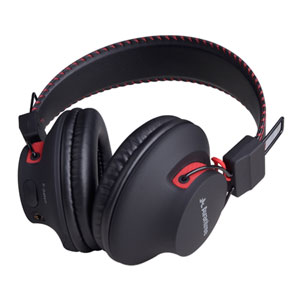 High-fidelity stereo sound quality with aptX codec
Designed with the aptX codec, the Avantree Audition Bluetooth Stereo NFC Headphones offers immersive stereo sound and superb audio quality. Additionally, the inclusion of digital sound enhancement and volume control mean that you can listen to your music distortion-free as loud as you could possibly enjoy.
Up to 40 hours of music playback
With an impressive battery life, the Avantree Audition Headphones will keep the music playing all night. Offering 40 hours of music playback and 20 days of standby time, the Audition Headphones are sure to be ready whenever and wherever the moment takes you.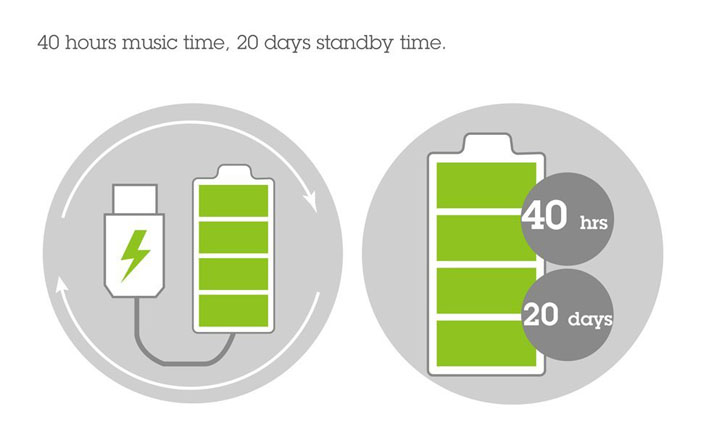 Multipoint technology
Don't just settle for one, connect to up to two devices with the Audition Headphones, allowing you to easily switch between devices. So whether you have a work and personal phone or you're listening to your mp3 player and your phone goes off, you'll never be out of the loop thanks to the multipoint technology in the Avantree Audition Headphones.
3.5mm cable to use the headphones once the battery has died
The headphones also come with a 3.5mm audio cable, which allows you to connect the headphones to your mobile device through a cable, allowing you to still listen to your music without pairing to your device through Bluetooth. It also means that the headphones are compatible with devices which feature a 3.5mm audio port and don't feature Bluetooth technology.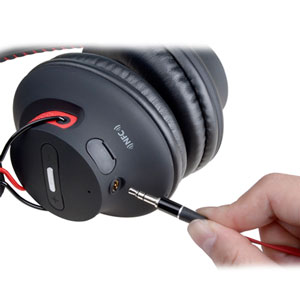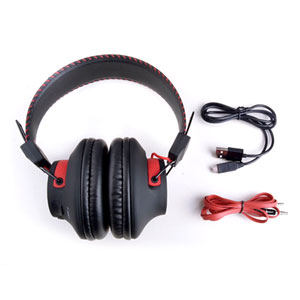 Technical Specification:
Batteries Included: Yes
Battery Type Required: Lithium polymer
Digital Sound Enhancement: Yes
Operating Range: 10 Feet
Product Depth: 80 mm
Product Height: 180 mm
Product Width: 170 mm
Rechargeable: Yes
Standby Time: 20 days
Volume Control: Yes
Weight: 180g