Most useful customer reviews
Brian John
Cardiff
RoadWarrior Car Holder
10 November 2014
Great piece of kit
I bought the RoadWarrior so that my sixteen year old niece could listen to her music stored on her iphone. The installation was simple and the sound quality excellent. Result - one happy niece!
Anonymous
Basildon
iPhone 5
17 August 2014
Fantastic device
I am very pleased with the product. I can now either listen to the contents of my iPhone, or tune into internet radio with ease. No need to install an expensive stereo / Bluetooth system. It also charges my phone at the same time.
Mark Bell
Doddington
iphone 5s
13 Mai 2014
brilliant device
Great holder holds phone secure fast charge and good radio.
222 Anmeldelser
|
Skriv en anmeldelse
---
Mer informasjon
An all in one car kit solution for music / call streaming and charging
Designed to ensure car journeys are more enjoyable and hassle-free, the RoadWarrior Charging Car Holder for iPhone 5S / 5C / 5 keeps your smartphone safe and secure while charging it from your vehicle's 12 or 24V power outlet.
The RoadWarrior also features a built-in FM transmitter, which connects to your in-car radio to allow streaming of music and calls through your car's speakers.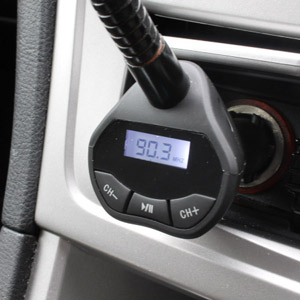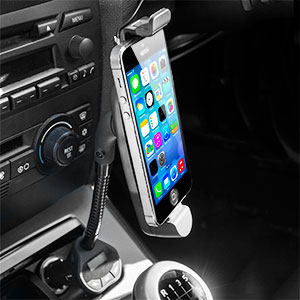 Holds your iPhone 5S / 5C / 5 safely and securely
Manufactured from a high quality polycarbonate and ABS composite, the RoadWarriorr includes adjustable jaws making it easy to add and remove your iPhone from the car holder.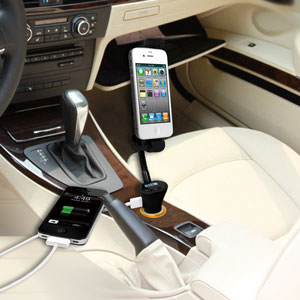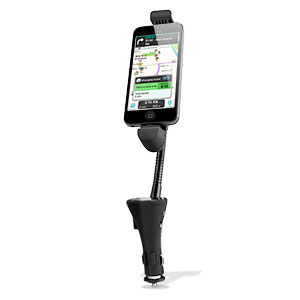 Stream music from your phone through the car stereo
The RoadWarrior is also an FM transmitting car kit, which enables you to transmit music and calls from your iPhone through your vehicle's speakers - without the need for any technical installation.
Simply plug the car holder into your vehicle's electrical outlet and connect your iPhone to the device using the 3.5 mm audio jack. Tune the holder to the same blank frequency as that on your car radio and press play to stream music and calls from your mobile device.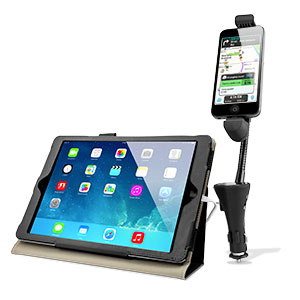 Simultaneously holds and charges your smartphone
The unique feature of this holder is that it includes a Lightning connection for simultaneous charging of your smartphone when held within the RoadWarrior.
Simply insert your iPhone into the holder and plug it into your car's electrical outlet for instant charging of your device.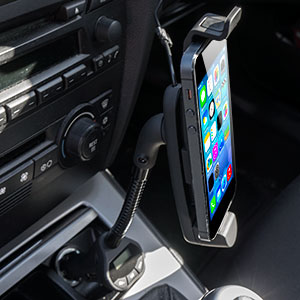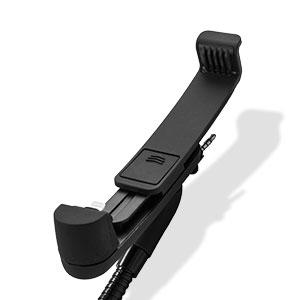 Can be positioned in either portrait or landscape orientations
The RoadWarrior holder is able to rotate 180°, making it easy to find a comfortable angle in either portrait or landscape. This makes the RoadWarrior perfect for using your phone to take calls hands-free, or as a Sat Nav (Satellite Navigation) system.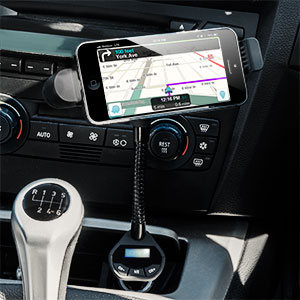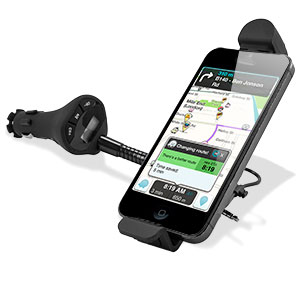 Built-in microphone for hands-free calling through your car speakers
The RoadWarrior includes a built-in microphone at the 3.5mm aux out connection, allowing you to make hands-free calls from your handset.
Includes noise cancelling technology, to ensure that your audio is loud and distinct.
If a call comes through, your music is paused and the call is heard through your car's stereo speakers.
Built in 1A USB slot to charge an additional device
Featured on the side of the RoadWarrior unit is a 1 Amp USB charging port, allowing you to use the included charging cable to charge a wide variety of mobile devices. This means that you can you can keep your iPhone's battery charged when conducting battery intensive activities, including streaming music through the unit, taking calls and Satellite Navigation.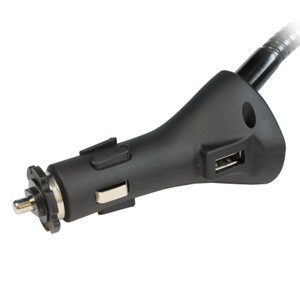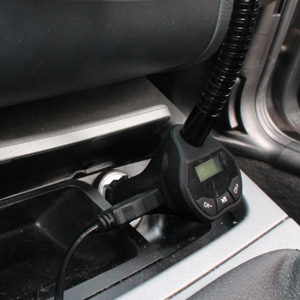 Adjustable gooseneck stand design
Powered by your car's in-car electrical outlet, the car holder features a 70mm adjustable gooseneck stand - allowing you to adjust the unit to the most comfortable and unobtrusive position for your driving.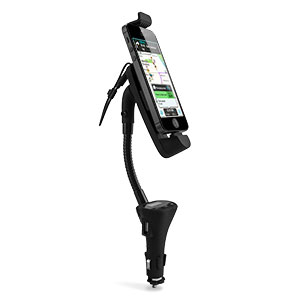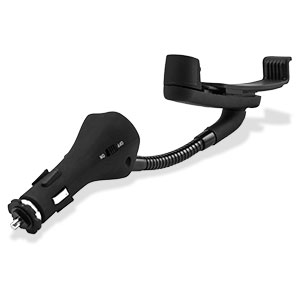 Please note - We have tested our accessories with iOS 7, you may see a warning but the accessory will work as intended. Click here to see more information