Most useful customer reviews
16 Februar 2017
Well impressed
Well impressed with this product - good design, quality of materials and manufacture. As easy to fit as was promised. Delivery through Royal Mail was superb also
10 Anmeldelser
|
Skriv en anmeldelse
---
Mer informasjon
Innovative adjustable design is compatible with any 7" - 12" tablet
Featuring adjustable jaws, the Arkon Heavy Duty Floor Mount allows you to safely and securely position almost any tablet within your car. Perfect for keeping the kids quiet during long journeys or using it as a sat-nav. It is compatible for use with all iPad versions, all Galaxy Tabs, HTC Flyer, Blackberry Playbook, Google Nexus 7 and many more.

22" Heavy-Duty Aluminum Seat Rail Universal Tablet Mount
Arkon's Universal Car Floor Mount for Tablets features an innovative holder that adjusts to fit any 7" - 12" tablet and a 22" adjustable aluminium arm that attaches to your car's seat rail bolt. Brackets are included for various configurations.
Innovative, adjustable holder fits any tablet 7"-12" with or without a case or skin
22" adjustable aluminum arm mounts to car's seat rail bolt
3 articulating joints and 360° rotating head allow for optimum positioning
Aluminium construction: lightweight and strong
Compatible with iPad, iPad 2 & iPad 3, Samsung Galaxy Tab 7" / 8.9" / 10", Amazon Kindle Fire, Motorola Xoom, HTC Flyer / EVO View 4G, ASUS EeePad Transformer, Acer Iconia, Toshiba Thrive, Lenovo IdeaPad, Blackberry Playbook, HP TouchPad and more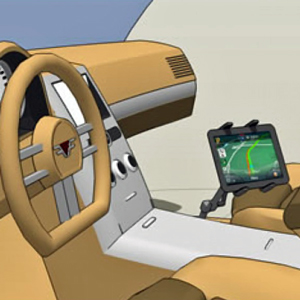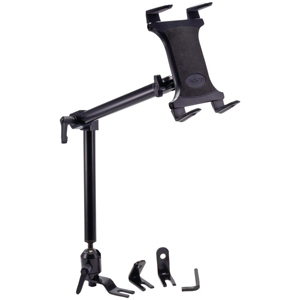 Lightweight and strong design
The aluminum design is extremely lightweight whilst maintaining strong mounting system which resist movement caused by vibrations, pulling and twisting.
3 articulating joints and 360° rotating head allow for optimum positioning
The Arkon Heavy Duty Floor Mount tablet holder features 3 articulating joints and a unique 360º adjustable ball joint which allows you to position your tablet in a comfortable position for you or others to view it whilst you are driving. This is perfect if you're using your tablet as a sat nav or if you want to position your tablet to face the back seats in order to keep the kids happy.