Griffin Survivor Case For iPhone 5S / 5 - Black
Produktets artikkelnummer: GRIGB397322
Produktnummer: 36479
Duststorms, rainstorms, 6 foot drops, whatever lies in your pockets...no matter what life throws at you (or your iphone 5S / 5), the Griffin Survivor case is ready for anything.
"A good case for adventure"
"Great product, superb service."
"Griffin Survivor Case for iphone 5S"
Most useful customer reviews
Dr Andrew Taylor
Saddleworth
iPhone 5s
27 Mai 2015
A good case for adventure
The name says it - "Survivor". If there is a need for protection of an iPhone then something that looks like this is a good idea. Griffin stuff is always well made, and this case clearly matches up to all the claims. It is about as robust as you can get and still have all the iPhone features available, and with a tough, rotating belt clip, it ticks all the boxes. Screen tactile function is a little degraded, more so at the edges, but you soon learn to live with that. The belt clip optionally clicks closed and is frighteningly difficult to open again - but is obviously tough enough to survive the force needed - ensuring a very secure clip. The best I have come across for a demanding environment (Mountain Rescue).
Christopher Norfolk
Saltash, Cornwall
Griffin Survivor Case for iPhone 5 / 5S
21 Mai 2015
Great product, superb service.
My Griffin Survivor case is an excellent product-and using the Mobile Fun website couldn't have been easier. From start to finish it was smooth, user friendly, informative, the service was prompt and the after sales care impressive. Mobile Fun exceeded my expectations. It was one of those rare things these days....an enjoyable online shopping experience.
11 August 2014
Griffin Survivor Case for iphone 5S
Bought this case cover for my husband, he was over the moon as he works as a stonemason in the building trade and of all the covers he said this is the best. I now have 2 sons wanting this cover also, as they too work in the trade. Guess what even got a lovely bunch of flowers to say thanks. LOL
31 Anmeldelser
|
Skriv en anmeldelse
---
Mer informasjon
Made to U.S and U.K military standards
The Griffin Survivor is one of the most protective case built for the iPhone 5S / 5. Tested and certified to meet or exceed US Department of Defense Standard 810F and UK Department of Defense Standard 00-35, Griffin's Survivor Extreme-Duty Case is designed from the inside out to protect your iPhone 5S / 5 from extreme conditions ... dirt, sand, rain, shock, vibration and a host of other environmental factors.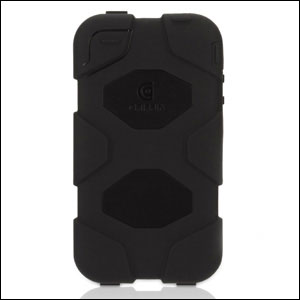 Rigid internal frame protects against shocks and drops
Survivor is built on a shatter-resistant polycarbonate frame clad in rugged, shock absorbing silicone. The survivor has been tested to protect an iPhone 5S / 5 from a drop on flat concrete surface from a 1.8 m height. Additionally, sealed ports prevent dust and sand damage caused typically caused to the dock connector, headphone port, hold switch and volume controls.
A detachable heavy-duty clip secures your iPhone to a belt or bag strap and can be used as a kickstand for viewing movies and playing music through the iPhone.
Integral display shield deflects wind and rain
A built-in screen protector seals your multi-touch display from the outside environment and exceeds in protecting against rain damage (200 mm for 1 hour)
Internal silicone cladding adds extra shock absorbency
The internal silicone layer to the Griffin Survivor not only protects your phone from impacts but it also prevents damage caused by vibration, tested at 20 to 2000 Hz for 18 hours. This means it is exceptionally great for use within industrial environments.
*Please Note: To fully protect your iPhone 5S or 5 the Griffin Survivor Case need to fully encase your iPhone in order to make sure it is completely protected. This may affect the Touch ID feature in the iPhone 5S.
Don't just take our word for it - Watch the video!