OtterBox Defender Series iPhone 5S / 5 Deksel - Sort
Produktets artikkelnummer: 77-33322
Produktnummer: 36252
Beskytt din iPhone 5S / 5 med det tøffeste og mest beskyttende dekslet på markedet: Otterbox Defender Series.
"Rugged full all round protection"
"Top Class Case"
"Great phone case"
Most useful customer reviews
Martin
Cheshire
iPhone 5SE OTTERBOX DEFENDER CASE
20 April 2017
Rugged full all round protection
Bought this great case as the other one has lasted the life of 2 phones! The protective screen became too scratched to see through...but the phone is like NEW underneath! I work out side on site in mud, snow, cow Sh......, oil, paint, sand and sea. This case is the only one for me. The new one works with the Touch ID too!!!
Paul Claven
glasgow
iPhone 5S
2 Februar 2017
Top Class Case
Firstly can I say excellent all round service from mobile fun from purchase to delivery On to my otter box defender As soon as I put the case on my phone I could feel it was a quality item. The case initially fits into a hardened plastic shell which encompasses a hard plastic screen protector which is then covered by the tough outer rubber layer. The rubber layer gives excellnt grip on the phone as well as good all round protection. The case does add some bulk to the phone but not noticeable and more than made up for by the level of protection you gain. The charging/earphone sockets are both covered by study plastic flaps as is the silent/volume button. The camera lens isn't and can get a little dusty but is easily cleanable and surrounded by the plastic and rubber outer layer to give great protection. Due to my job having me working outside and inside and taking a decent amount of punishment day to day I wanted a case that would give good protection without being too bulky to fit in my jeans pocket and the otter box defender ticks all the boxes. I previously used a griffin survivor which while still a Briliant case is at least 1/3rd size bigger than the defender, also the camera lens is covered on the defender with a rubber flap giving more protection however in my line of work I need my camera sometimes fairly quickly and fiddling around trying to open the flap did at times get frustrating in a hurry! Overall I would highly recommend the otterbox defender. I also previously used an otterbox commuter which while giving good protection in my opinion is blown out the water by the defender with the added layer of protection and built in screen protector!
15 Februar 2016
Great phone case
Well impressed with phone case .definately genuine have already accidentlally kicked phone across concrete yard ,not a problem.
54 Anmeldelser
|
Skriv en anmeldelse
---
Mer informasjon

Robust deksel bestående av flere lager som motstår tunge støtskader


Designet for å tilby den ultimate beskyttelsen til iPhone 5S / 5 består dekslet Otterbox Defender Series av lager av beskyttelse med ulike beskyttende materialegenskaper. Først ut kommer et todelt polykarbonatindre som hålder din iPhone 5S / 5 sikker på plass og gir ekstra stivhet og styrke.
I tillegg finnes en ytre gummibelegg som sitter tett rundt det indre dekslet for å gi overlegen støtabsorbering og leder bort påvirkning fra enheten med et økt beskyttelse mot støter.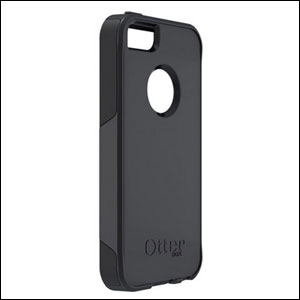 Innebygd skjermbeskyttelse forhindrer riper


Innebygd i polykarbonatdekslet er en termisk format skjermbeskyttelse med en anti-fingeravtrykk belegning. Det hjelper til å forhindre skader på skjermen uten å forhindre touchscreenens følsomhet.

Silikonport dekker og holder ute smuss og sand


Ladingsporten og porten til headsetet på dekslet er beskyttede av silikonplugger for å holde ut uønsket smuss og sand.

Inkluderer avtagbar belteklemme/stativ


Hvert Defender-deksler kommer med en avtagbar plasthylster med en beltesklemme. Dette lar deg feste klemmen på dine klær eller beltet for en enkel tilgang og klemmens smidige hylster gjør at klemmen også kan fungere som et visningsstativ til din telefon.