Most useful customer reviews
Joan Pyne
Gliucestetshire
cable jive dockboss
15 Mai 2017
A gadget that works!!
Bought this so we could use our Bose docking station with my Motorola G4 mobile phone and my husband's Nexus tablet. At one point we were contemplating buying the Bose Bluetooth speaker at a cost of £150 so we could have the same high quality Bose sound with our tablet and mobile phones. So glad I did a bit of research and came across this site. I don't usually complete reviews but so impressed with this cable jive dockboss I felt the need to share my happinesses!! I love a gadget that works.
Alistair Goodfellow
Rugby
BlackBerry Z10
12 September 2013
Works perfectly with my BlackBerry Z10 and Pioneer DEH-P6900IB car stereo
Having just upgraded from an iPhone 4S to a BlackBerry Z10 I needed a small, efficient and effective solution to connect my new phone to the iPod lead on my Pioneer stereo As soon as I plugged the adapter in the stereo recognised it. I then connected the 3.5mm jack into my new phone and it works perfectly with no loss of quality
Nil
Cambridgeshire
iPhone 5
3 Juli 2013
Great company
Excellent service, fast delivery. Good communication. Highly recommended A+
22 Anmeldelser
|
Skriv en anmeldelse
---
Mer informasjon
The iPod, iPhone, and iPad aren't the only devices that output audio for listening, but sometimes the iPod dock is the only interface you have for plugging in. Enter dockBoss, a very smart little device that attaches to almost any iPod or iPhone docking station or cable and translates the audio signal from a standard audio plug. Be the boss of your dock.
Audio Anywhere
On one end of the dockBoss cable is a standard 1/8" (3.5mm) audio plug that connects with a huge range of audio-output devices including laptops, MP3 players, XM and other portable radios, the list goes on. Want to listen to music from your laptop on your dock-enabled desktop speakers? Want to listen to an XM satellite radio in your car through the iPod cable? dockBoss is the answer.
Smart Sounding
Inside the dockBoss is a very smart set of electronics that help make sure your car, home, or portable system knows what to do to get audio through the connector and to your speakers. dockBoss speaks the language of most systems. On the front of the dockBoss is a small red indicator light that flashes when things are getting set up, and is solid when it's ready to play audio.
Wired Up
dockBoss has a 2.5-foot black cable to extend the reach of your docking station or cable just a bit to give you flexibility in controlling your audio device.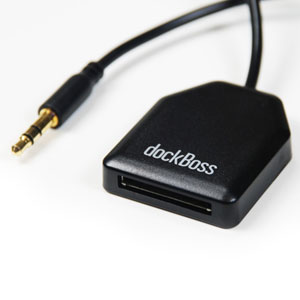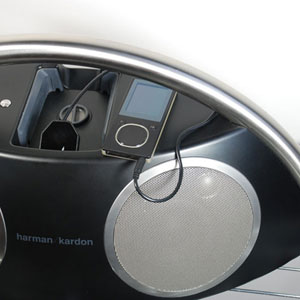 Please note: not all Apple 30-pin systems are supported by the Cablejive dockBoss range. Please see below for a list of incompatible systems and models.
Compatibility
Cablejive dockBoss systems are incompatible with the following docks:
Standard iPod Audio Docks
All models from Philips, Panasonic, Bowers & Wilkins, Bang & Olufsen, Denon, Onkyo, Pure
Sony Hi Fi models beginning in: "NAS" / "MHC" / "AIR" / "RD" / & "CMT" (however "CMT-LX20" IS compatible)
Yamaha's PDX-50 Wireless iPod System, TSX-140 Dock, & "MCR" models
iHome's "App Enhanced" docks (ex: iA100)
Belkin's "Thunderstorm" speaker system
Wadia's 170 iTransport
Factory Installed Car iPod Systems
ALL factory installed car audio systems 2008 and newer
Any and all factory systems (pre & post 2008) from Volkswagen, Audi, Nissan, Infiniti, Toyota, Lexus, & Mazda
Aftermarket Car iPod Systems
ALL Pioneer & Alpine systems
Also, any systems that link to sophisticated Navigation units, or ones that "lock" the screens of connected iPod devices and force control through the car-installed system only.
Home Theater iPod Systems
Pioneer, Panasonic, Samsung, Sony, Denon, Onkyo, iPort & Yamaha's "YDS" model interfaces