Most useful customer reviews
6 Juli 2017
Works well
Works as good as any other phone holder, only just fits a pixel XL with a spigen case but holds it securely
Dejan T
Ptuj
Lumia 950 XL
24 April 2017
Item as described
Item was received promptly and well packaged. It is easy to mount and use. My Lumia 950 XL fits on it well, even with it's protective cover on. But it feels a little heavy, I hope it will stick. Have yet to try it on the road.
31 Mars 2017
mixed reviews
When I read the description stating the in-car mount could accommodate mobile cases, I thought my Apple Silicone Case for iPhone 6 would be included. After driving a couple of miles on the first use however, the in-car mount lost suction and my phone fell. This startled me as it was unexpected. I simply removed the case and it has since worked a charm. I like the way it tilts. It's inconvenient removing and inserting the Apple Silicone Case for driving but not much of a hassle to warrant not using it. 5* driving without the case in-mount, 1* with.
1089 Anmeldelser
|
Skriv en anmeldelse
---
Hvorfor kjøbe?
Bruk på frontruten eller dashbordet
Plasser telefonen i alle vinkler
Gir tilgang til porten for lader og headsets
Liten og diskret og skygger ikke sikten når du kjører
Langvarig grep på både dashbordet og frontruten
Kompatibel med enheter opp til en bredde på 80 mm
---
Mer informasjon
Plasser telefonen eller MP3-spilleren på bilens frontrute eller dashbordet med den universale bilholderen Olixar Omniholder. Holderen er designet for å brukes i enten en liggende eller stående modus.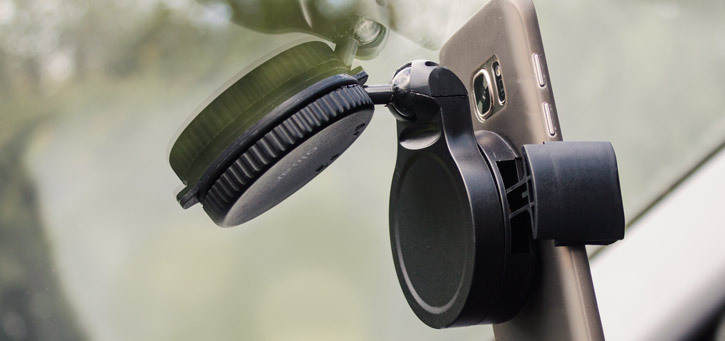 Bruk på frontruten eller dashbordet - du bestemmer!
Hold din telefon eller MP3-spiller enkelt med bilholderen Olixar OmniHolder, enten på frontruten eller dashbordet. Holderen er pakket med en selvheftende plate for et godt feste til dashbordet.

Holderen kan diskret plasseres takket være sin lille størrelse. Holderen er perfekt når du vil bruke telefonen som en GPS. Med et justerbar og vribart feste kan du enkelt flytte holderen fra frontruten til dashbordet.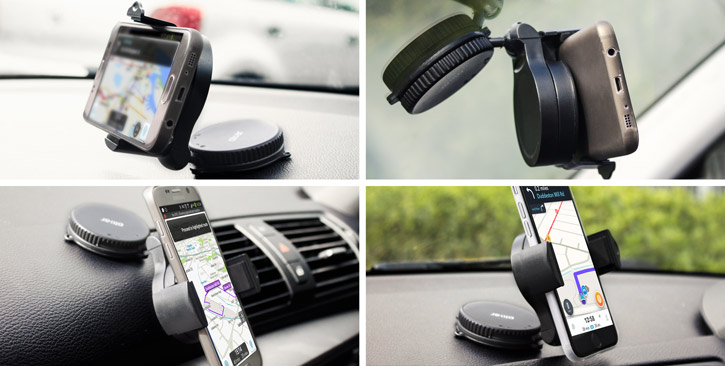 Plasser telefonen i alle vinkler
Holderen har en kulehode slik at du kan plassere enheten i en komfortabel visningsvinkel. Sugekoppsfestet tilbyr et godt grep, uansett hvilken overflate du plasserer den på og holder din telefon i et sikkert grep.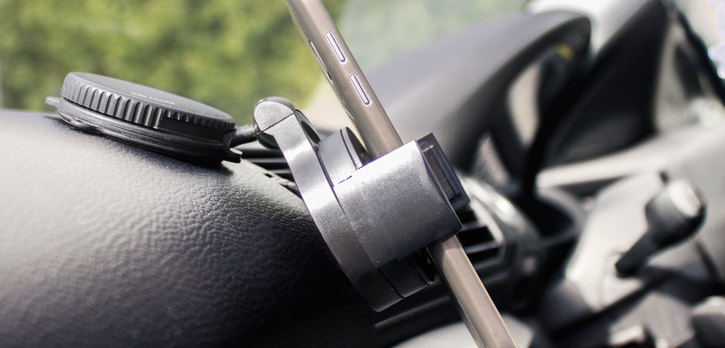 Kompatibel med enheter opp til en bredde på 80 mm
Armen kan forlenges opp til 80 mm, noe som er tilstrekkelig for de fleste telefoner, bortsett fra de aller største telefonene.

Den forlengede armen på holderen skaper et sikkert grep som passer de fleste enheter, med eller uten deksel. Dette er bra ettersom du ikke trenger å ta av dekslet for å kunne bruke telefonen i holderen.
Holderen gir enkel tilgang til ladeporten eller 3.5 mm porten til headsetet.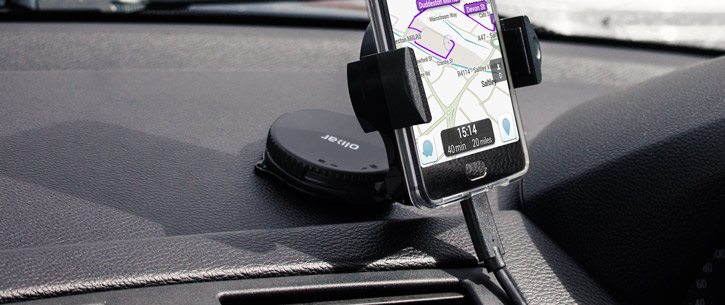 Myke puter i holderen holder telefonen nennsomt og forsikrer at den er sikker utan å etterlate merker når du fester eller fjerner telefonen fra holderen.

Putens dimensjoner er ca 6 cm.